Original design for a color class. Free motion quilting with satin stitch edging. Available for sale $150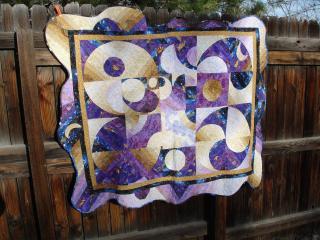 This is one of first few quilts I experimented with Free Motion quilting. Its from Louis Smith's Strips & Curves book. Also one of my first quilts with a wavy border. Picking the fabrics is the BEST! It is shades of purple and golds. I found some glow-in-the-dark star fabrics and fun outer space fabrics. Plus a little applique.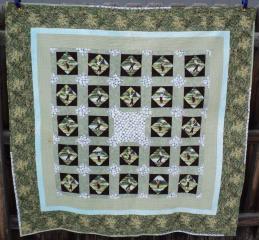 I made this for my stepson as he was interested in golf. Found a fabric with golfers, another with golf balls and some other colors to match. A grassy one borders the whole quilt. Best of all in the light blue fabric, I stitched as many golfing terms I could think of....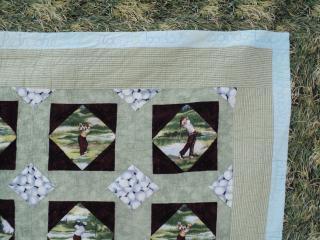 The Alpine Quilters in Genesee has a contest to use the Rocky Mtn Puzzle block somehow in a quilt. As Genesee is where the Buffalo herd is located off I-70 in the foothills. Free Motion quilting, fused fabric and bound edge. It worked perfect! Available for sale $150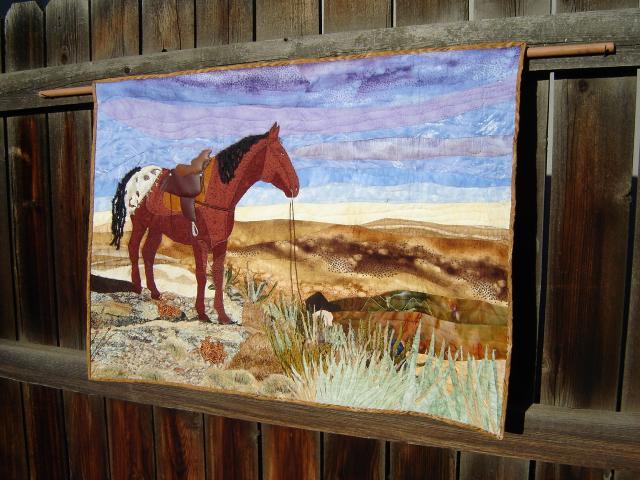 Original design from a picture my mother took of Dad in early 1970s. Brandy, the gorgeous Appaloosa, waited with Dad (see where reins go?) for a large herd of cattle in the fall. Not For Sale

Named after what my niece asked when seeing the quilt....What's Under the Flap? Original design for same color class. Free motion quilting, 3D elements, bound edge and an irregular border. Available for sale $84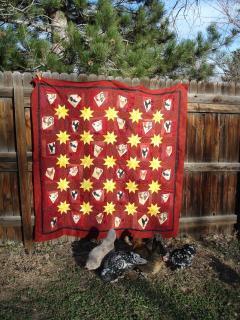 Found some awesome rooster fabric and really admired the look of the Hunter Star Pattern. It just makes you feel warm! The hens finally posed in front but only with a bribery of cracked corn. Not For Sale

Here's another Buggy Barn pattern. Its a large quilt which took me 3 years to finally quilt myself on a home sewing machine BUT I did it! The stitching up close is neat to look at. The middle of each heart is round pebbles, then outer part of heart has LOVE stitched around it and finally the background space of each block has a simple running line with a twist every so often.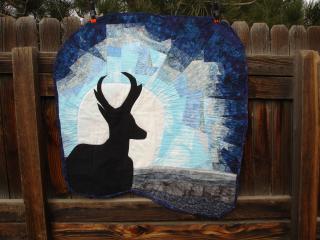 Original design for color class. One of the best classes EVER! It was so fun creating and seeing what other people created from quilts to beading to flowers to cooking as long as it followed instructions regarding color. Fused fabic, free motion quilting. Not For Sale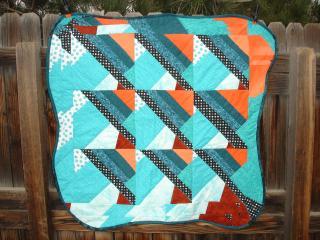 Made for the color class with an original block but following the Shifting Perspectives book. I love southwest colors and after taking the color class I see why rust, turquiose, & black look so good together. Decorative stitching, bound edge. Available for sale $94

Another of the French Braid quilts made in fall colors with a punch of turquiose and blue diamonds down the centers. The batik on the border is an awesome oak leaf print.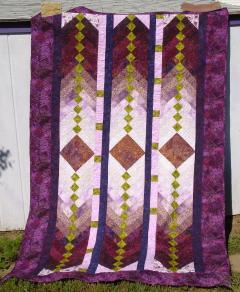 I've been getting quilts made for many family members. This French Braid quilt is for my mom's birthday in March 2009. She likes mauve and it has purples, yellow-green and lavendar.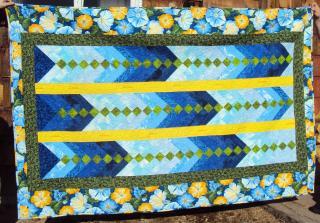 French braid quilt made for my sister in yellows & blues with huge morning glories in the border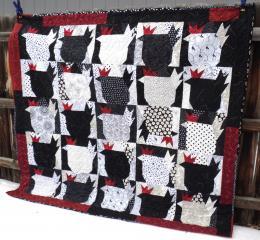 This one is large! And contains wool batting so will be so warm! I pieced it all but asked a local long arm quilter to put it all together. Linda Vopat of Flying Hearts quilting in Watkins CO. She did lovely job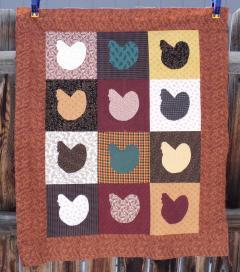 Wallhanging with chicken silhouettes fused to each square. Very puffy quilting, feather design & flowers. Fabric is plaids, small prints,.... country charm type & theme. SOLD