The Silkie Chalet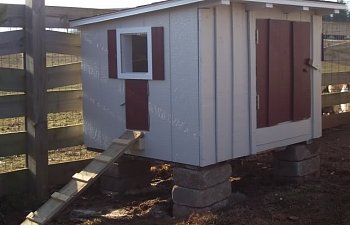 After purchasing a few Silkies, I decided they needed a place of their own. They were getting along with the Standards, but the Standard Roo was a little big to be dancing with the little Silkie Hens. And of course since they are getting ther own house, build it bigger for a few more. I am going to add 1 or 2 bantams cochins to the group. The Silkie Chalet is mostly made from Free or throw away materials.
3 ft. high at the tallest point

39 inches wide

4 ft. long

The base is a Wood Pallet (Free from local Ace Hardware Store)

The roof and walls are all studed out with 2X3 16 inches on center (Purchased)

The interior walls are made of plywood (Free from construction site)

The exterior walls are made of T1-11 (Purhcased) Front Wood Pallet Slats (Free)

The Roof plywood (Free from construction site) Shingles left over from house roof

The roof and all walls are insulated with R13 insulation (Purchased)

Windows made from Plexiglass (Free from local Ace Hardware Store)

Floor is covered with vinyl flooring for easy cleaning (Free from flooring company)

2 nest boxes (1 Plactic Kitty Liter tub, 1 from wood scraps)

Inside 4 ft of perch (2 inche side up)

1 Chicken Entrance

1 Human Entrances for cleaning and feeding

On the Right End, there is screen near the roof for ventilation
The Front The Right Side (Window and Ventilation)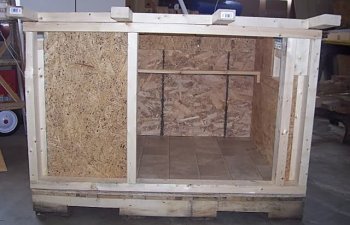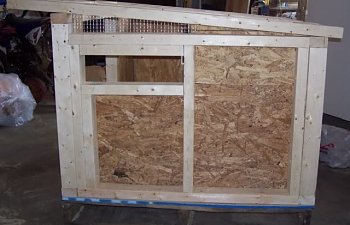 The Left Side (Chicken Entrance & Window) The Back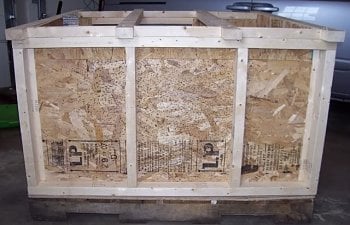 Top View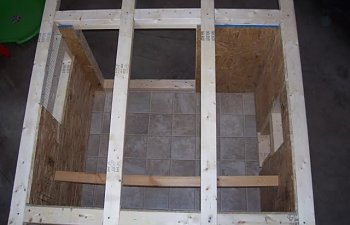 February 9, 2008 - It is outside and in place with its occupants. They are allowed out to free range when I am home. I will be adding a run with cover soon.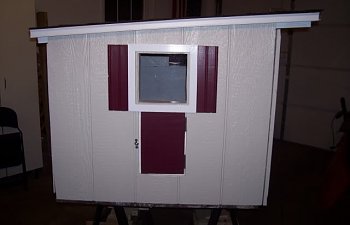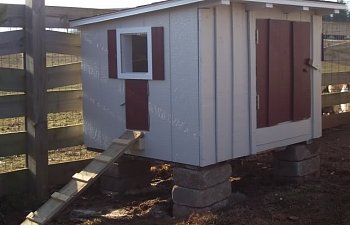 Helpful Hints to you -
If you are thinking about building a chicken house, read through BYC I got a lot of ideas and gotchas to avoid by reading BYC. Don't be ashamed to go Dumpster diving. You can get a lot for free.