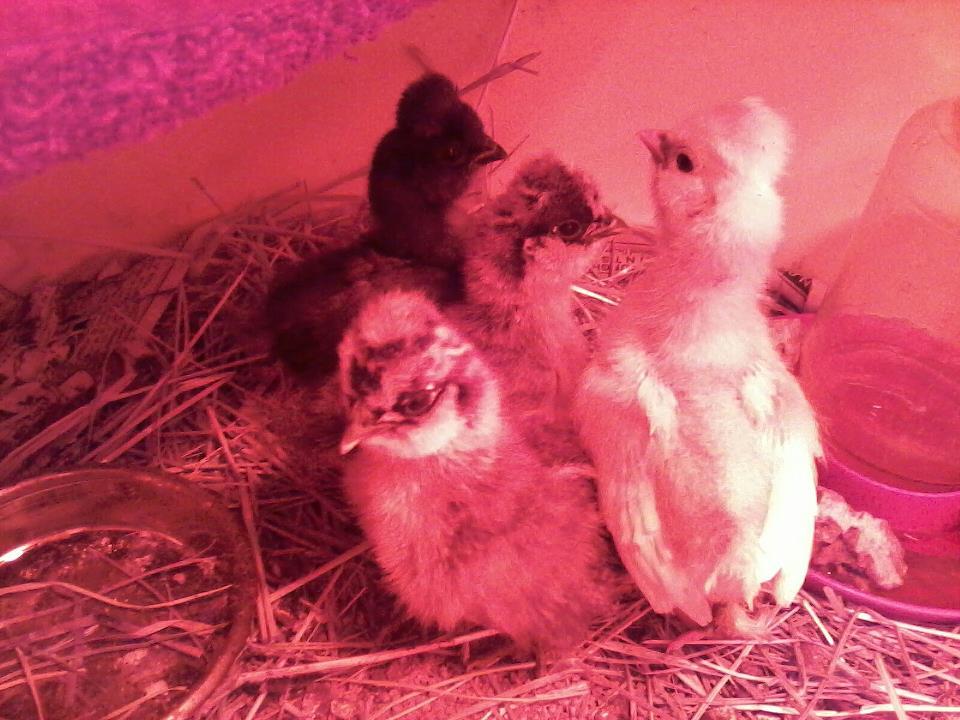 We have a small flock of 5 silkies(1 adult white non-bearded roo, 4 bearded chicks, 1 white, 1 black, 2 partridge), 1 barred rock hen(Rupert the roo's girlfriend, which he loves so much he will share his treats with her, he was lonely and the others are too young to join him), 1 mini rex rabbit(sharpie, given to me for free, because her poor bloody and raw feet wouldn't heal, she is fine now and a big goofball) , 10 flemish giant rabbits(8 are babies, Rupert loves them and will cuddle and protect them), 2 oriental shorthair cats(princess Snoz, the loudest and most annoying cat on earth, but I love her and Louie the gentle one), Teddy the 18 year old Chow/Pit mix(I call her the mothership aka the ancient one aka tedster, she would take in any orphan in her younger days, well most of them were orphans, some of them she just took from their moms, just any small squeaky thing that she could find, ducks, parrots, lizzards, tiny rodents, kittens and even some human children that she could lure away with her fuzzy cuteness) and then there is the boss lady Alley(chihuahua/poodle mix, feared by all and has bitten many noses). Did I get them all? Oh wait yeah some humans too, 3 counting myself.
I work in healthcare with people that have disabilities and it is my goal to work with some of my chickens and rabbits to be therapy animals in the future.
1-5-12 update
Oops, chickens are like potato chips, I was selling rabbits and ended up trading for a pair of bantams instead lol The guy said they were mille fleurs, but I'm not sure if they are, no feathered feet and the rooster doesn't have a comb. I think they are beautiful whatever they are, but I shall ask in the forum to see if anyone can figure out what they really are

Well turns out they are most likely dutch game bantams. Going to build them their own coop on my day off.