Tami's Coop
Submitted by Tami in Pennsylvania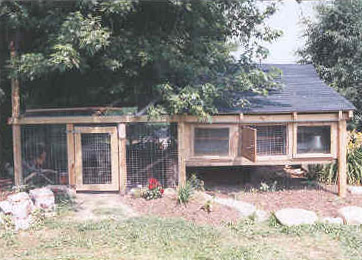 "My husband and I built it attached to an existing dog pen. I figured out this coop design so I could basically hide it from folks going past the house (it faces the fields behind our home). Plus the windows in the front help keep it warm inside, they face west. They have plenty of shade to stay cool in the fenced area too.
This coop houses only two cockerels at this time. It really isn't big enough for to many chicks. The outside dimensions for the fenced in area are 7'8" long x 4'7" wide. It is 4'3" tall in the back and is sloped down to 3'7" in the front. I also put wire on the top to keep racoons and such out. The house part of the coop has outside dimensions of 7'2" long x 4'5" wide. The back is 5' tall sloped to 4' in the front. The inside house dimensions are 7' long x 4' wide and the inside is 2' high. There is a small door on each end of the house, one with a ramp for them to go into their fenced area(I close it at night) and one on the other end for me to feed them and clean out the coop. The windows in the front are from an old green house and I placed the wire window in between them for air circulation. It has a door on it that I close at night if it's rainy.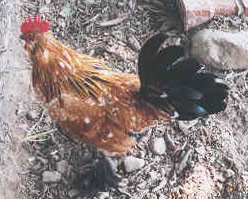 Inside, there are two nest boxes in one corner and a perch that reaches almost the entire length of the house.....that they haven't perched on as yet!! I put in the nest boxes before I knew that my chicks were both cockerels. So I guess there'll be no eggs in those nest boxes unless I find some hens. I probably won't do that unless I find a home for one of my cockerels. I don't want them fighting over one hen and feel the coop is to small for 4-5 chickens. Since we live in PA our winters get cold so I will place a heat lamp inside the coop for them. If it gets to bad they are small enough to bring inside the garage to stay warm."