Ingredients
3 chicken breast halves
salt to taste
2 tbsp oil
3 medium tomatillos
2 roma tomatoes
6 guajillos chiles (dried, devined, and seeded)
2 de arbol chiles (dried, devined, and seeded)
1 tsp oil
¼ cup yellow onion, chopped fine
2 garlic cloves
3 green onions, chopped fine
1 strip of cinnamon
½ teaspoon cumin
½ cup slivered almonds
15 oz Mexican cream
Directions
Salt both sides of the chicken breast as much as possible. Allow chicken to rest.
Place tomatillos and tomatoes in a medium pot with water and allow to come to a boil.
Remove from heat and add chiles (all of them), then cover and let stand for at least 15 minutes.
Meanwhile, sauté 1 tsp oil, garlic, yellow onion, green onion, cinnamon, and cumin over medium heat until the onions soften soft, then add the slivered almonds and cook for another 5-10 minutes. Do not allow the onions or garlic to brown much, if at all. Remove from heat.
In a large pot or Dutch oven, heat 2 tbsp oil over medium heat and cook the chicken slightly (shouldn't be fully cooked), no more than five minutes. Remove from pot and turn heat off.
Drain the tomato/tomatillo/chile mixture, reserving liquid and place into a blender. Add 1 cup of the reserved liquid.
Add the onion mixture to the blender and blend until smooth. There's no such thing as overblending here, so feel free to continue to blend. I personally like to see small pieces of chiles in the final product, but you may not.
When blended, add mixture to pot (or Dutch oven) and turn heat to medium-low. It's important to do this when the pot is still warm. Stir well, scraping any chicken pieces off the bottom of the pot.
Add chicken to the mixture and cook for 15 minutes, stirring occasionally.
Add the Mexican cream and allow to cook for an additional 10 minutes over low heat until the cream is fully absorbed and the mixture is warm. Serve with Mexican rice and beans as well as tortillas.
Chiles ready for cooking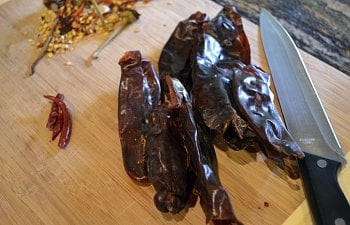 Tomatillos and tomatoes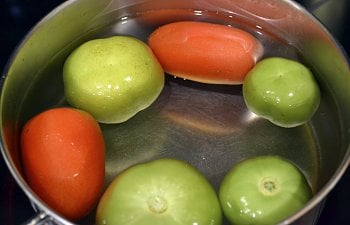 Sautéd mixture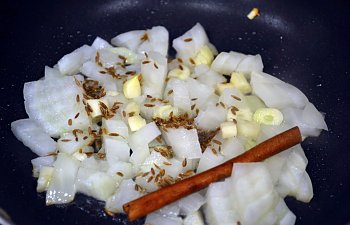 Sautéd mixture with almonds
Blended mixture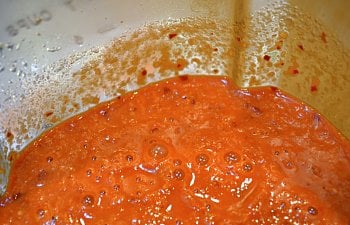 Adding the Mexican cream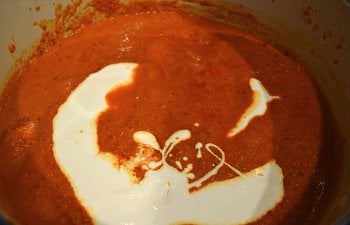 Final enjococado