The Breakfast Nook
This coop was created to bring my passion for birds home. I had acquired six Black Copper Marins at 2 days old and wanted them to be here at my house for once. I picked a spot on my oh so level property and here we started. This coop is also a 4x8 design. I'm adding two windows and a trap clean-out door to this one. I'm also making the roof have a 2 foot overhang to allow rain day perching and feeding, 12 feet total.
First I Cut all my wood for each side of the coop. The base, front and rear walls are all 4x8.The front will have two Free windows, this providing heat and ventilation! The two side walls ended up being 40"x4', as to fit inside the front and rear. Of course as I finished assembling the base and all the walls it begins to rain!!!! Tarped
The next morning I hopped up and seemed so did my walls and roof trusses. my work the night before had paid off. all the walls were up in minutes. I think it took another good three hours of self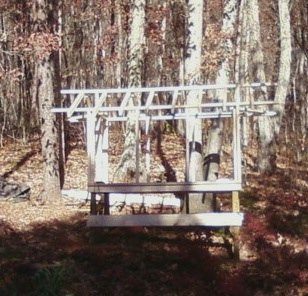 Trying out the windows, had to remove them from the full frame due to there height. So I used Brass lamp finial extenders for the aluminum spikes to hinge in. Works really well.
Put the Sheeting on the walls today and put all but one piece of tin on, like a dork I started in the middle, now I must cut a piece in half and slip it up on each of the ends.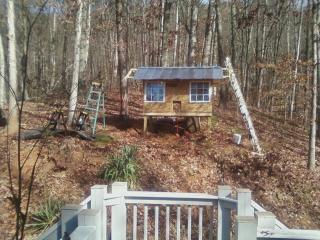 Siding coming FREE ! Thanks to my folks.​