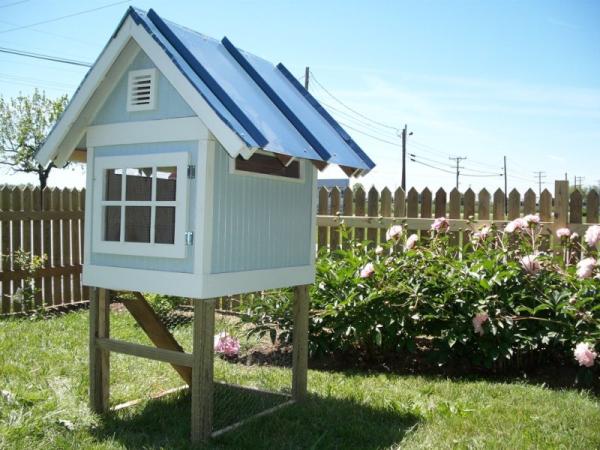 The Corolla -our Outer Banks inspired chicken coop. Small-sized movable coop.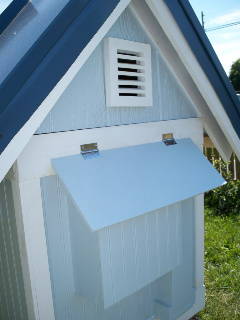 Here it is -our compact coop packed full of amenities. It serves its pupose well while maintaining gracious lines and an overall charm welcome in any backyard. We envy those of you enjoying your country living and, to those, we understand that keeping out predators is your main concern while building a coop. Well, we city folk have other predators we must consider -NeIGhBoRs!!! This coop is almost too cute to complain about.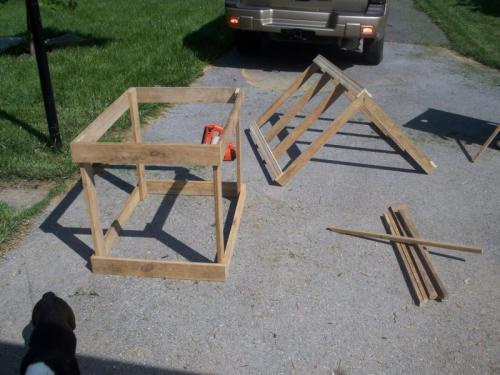 We started with whatever scrap lumber was in the garage. It happened to be 1x4 pine. Hubby made a simple box 2ft. by a little over 3 ft and a little over 2ft. high. We then made some trusses by mitering the ends 45 degrees and attaching them with metal jointers and some nails. We spaced them about 12" apart so to leave a 4" over hang on both front and back. We also left them long to have cover for our future vents. (Rain can fall sideways) We then secured them with 1/4" furring strips (scrap trim boards) The top ones we cut 45 degrees on the table saw to create the point of the roof.
[FONT=andale mono,times]We then started framing in the amenities. We made a banty sized nest (10" x 10") and an auto feeder (2x4 with built-in tray and the front board raised 1" from bottom to allow feed to trickle out) We set the feeder on the outside and the nest half way resting on a furring strip. (these strips will later support our siding)
The flooring was also 1x4 pine. We spaced them out a bit to allow debris to fall through. We tacked small strips to the inside of the bottom of the frame to be the joists and nailed the boards to it.
Framed in space for a ramp. Strips were tacked on the ramp for little steps.
,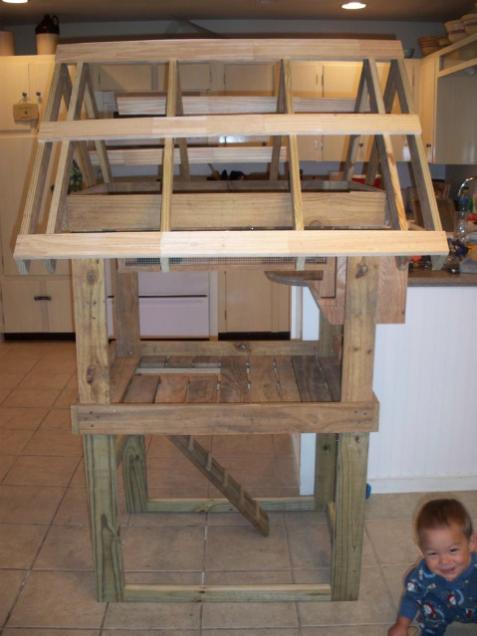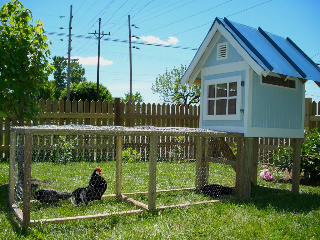 Here is the completed skeleton which we raised on 2x4 pressure treated stilts then braced with 2x2's. The roof isn't attached. Its weight keeps it on. This way it can be removed easily for cleaning and to make the whole coop a bit lighter so I can help Rusty move it.
The siding is T-11 (pine beadboard) and was cut to fit. The ends don't have to be perfect cause the trim boards will hide. The vents and window were mitered and put together like picture frames. (glued, clamped, and nailed) then backed with hardware cloth. I added the individual window pane look by simply tacking on a few tiny strips of wood. The small gable vents were mitered and glued and small louvers were added at an angle to allow water run off and were glued as well. The roof is standing seam metal and was simply nailed on and bent with a hammer over the sides of the trusses. (see pic on top of page)The run is detachable for evening free ranging. This coop is the perfect size to house our Bantam Black Rose Comb trio. It allows some shade all day and they really seem to love it. I love it too for it looks and functionality. We added a lift flap on the back which was put on with galvanized hinges (rust proof) for easy access to the auto feeder and egg collecting.
Things I would change:
#1 Make it bigger. It breaks down into two pieces to move so it could handle a bit more weight. It is perfect for just the trio but we already have two chicks growing fast so we're thinking of additions.
#2 Move chicken door to a side somehow and add solid foor. The poop falls through just like we planned but so does any shavings we add. I would like to keep it cozy and warm this winter so we'll have to customize it

#3 Use long 2x4's that would run the complete length of the frame instead of creating a box and adding legs. This would give so much more structural integrity.
Things I LOVE:
#1 The nest box is so easy to collect eggs from.
#2 The size. This is a catch22. The tall, narrow shape is great. We can tuck it in the bushes, under small trees, in the corner of the garden.
#3 The fact that it is elevated. The coop does not leave a stained area on the grass. It's great for urban areas where presentation is important.
Most of the time they just peck around in the garden to their hearts content. (We haven't used the run in three months and the chickens don't seem interested in what is on the other side of the picket fence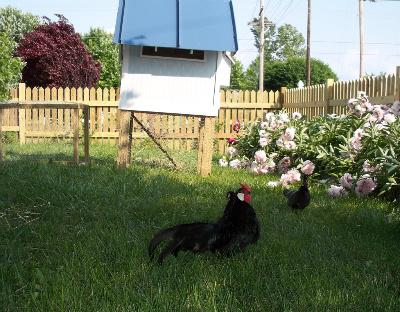 If you are interested in purchasing a coop, please check out our site which shows all of our models, pricing information, available upgrades and delivery options. We are located in the eastern panhandle of WV.