There are a lot of different opinions on roosters. Some people hate them and think them the devil, some think that roosters can never be our friends or pets, some think that they're unintelligent, some think that it's disrespectful to hold/pet a rooster, yet have no problem with hens (this, friends, is called
sexism
).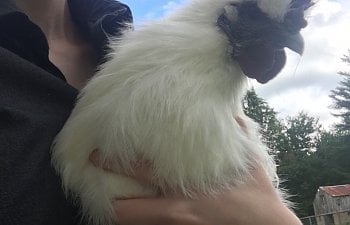 The general consensus in regards to roosters is overall negative. A rooster seems aggressive and we jump to the conclusion that something is wrong with the
rooster
. Usually it's not the rooster, though. Yes, that is right, it's the humans.
We try to apply human concepts to chicken social dynamics, and we try to use human thinking to understand chicken behavior. Chickens are not humans. Humans are not chickens. However, humans have done a lot to modify chickens from what they originally were. Without understanding the wild counterparts of our domestic chickens, it's no wonder we don't understand our backyard poultry!
Let's start off on the right page here- understanding wild chickens, aka; jungle fowl.
Our modern breeds, for the most part, come from a mixture of red and gray jungle fowl (
Gallus gallus
and
Gallus soneratii
respectively). There are some things that we know for sure. Junglefowl exist in complex social structures composed of multiple roosters and hens, outside of breeding season. They live fairly peacefully together with but a fraction of the aggression we see in domestic chickens. Most of the year is spent this way in a comfortable mixed flock of roosters and hens, young and old. When breeding season comes around the roosters who are in breeding condition will split off and form their own distinct territories consisting of one rooster, and a handful of hens. This is the time of year that the roosters become the fighters we generally know them to be. They fiercely defend their nesting spots and their hens from other males. They crow to let hens know they're "available," and to warn other males to not encroach on their territory (not "get off of my land" so much as "hey, this is someone's land!"). They spend their time patrolling while courting the hens by finding them food, hopefully winning over a hen so that she will invite him to mate. The roosters try to find suitable nest sites, and should the hens approve he will guard this spot ferociously. Meanwhile young roosters will hang out together, not yet old enough to win over hens on their own, and being much too social to be alone. Eventually the hormones drop down as the hens are now raising their chicks, and the flock can come back together once again, roosters and hens intermingling.
We can still see these behaviors in our own, domestic birds, but as we've domesticated them we have modified their behavior. Most no longer recognize a set breeding season, and instead will try to mate year-round. Roosters crow regularly year-round as a form of communication, the "language" of their crow being different from that of the junglefowl. It no longer is an invitation or challenge, but rather has become a form of communication, seemingly a way for roosters to get an idea of where everyone is at. The aggression is something else entirely. We wanted fighting roosters. We wanted them aggressive all of the time. So we bred them that way. We created incredibly unbalanced, hyper-aggressive birds. When rooster-fighting lost popularity and we started wanting livestock instead, roosters were still maintaining that hyper-aggressive, confused nature that we had worked for. So roosters gained recognition as aggressive and problematic; something better off being killed and cooked than dealt with. We didn't have much interest in trying to understand them, or any animals for that matter. Taking a look at the history of comparative psychology will tell you an awful lot about that.
Thankfully with modernization came better ways of thinking. We actually started to take an interest in the minds of animals and have started to realize that they are every bit as complex as we are. They communicate, they think, they empathize, they have fun, they mourn, they experience joy, frustration, and sadness...not in the same way that humans do, but in ways unique to individual species. Of course not all animals...so far we do have a small collection of those we now understand to be much, much more intelligent and complex than we ever thought. Some of the most intelligent, cognitive animals are birds. Most people will immediately think of parrots, and probably crows as well. Both remarkably intelligent, clever groups. However pigeons and, yes,
chickens
are among those birds of great intelligence.
Chickens from nearly a day old are capable of understanding a concept of numbers. They have a distinct language with actual
words
that spans across an entire species globally. The social dynamic that exists within a flock is something we have not yet been able to fully grasp at. Hierarchies are not linear and straightforward, but rather built upon relationships formed between individuals. Chicken relationships are not merely comprised of "higher ranking" and "lower ranking" but rather of friendships, familiarity, parents, siblings, mates, and so on. They are incredibly social, and as any incredibly social, intelligent animal, they are fully capable of pro-social behavior such as helping one another, comforting one another, and so on.
This does not just apply to hens, or roosters. This is a species-wide thing. I am mostly here about roosters, though.
The way we deal with roosters is appalling. I have actually been advised to
hurt
and
frighten
an animal because I don't like it's attitude. Such tactics may have stopped roosters from attacking, but it ruined our relationship. I have watched birds I raised from hatch become frightened of me, and this is not the way it should be. My sibling and I have taken on different approaches now to raising roosters, and we're finding with our current flock that things are much, much less stressful for the birds. When any bird, be it a hen or rooster, decides to behave like a brat then we do
not
hurt them. We simply pick them up, tuck them under our arm comfortably, and walk around with them, talking to them. We wait for them to relax and start chattering with us, and then we set them down and carry about normally. They do not like having their locomotive ability taken away, so they stop being little turds, but they realize that we do not hurt them, so we maintain a relationship with them. The roosters, regardless of ages, are comfortable laying next to us, in our laps, and perching on our shoulders. They talk with us, interact with us, and will enthusiastically greet us upon our arrival. When they are frightened they come to us to hide about our feet, they jump into our laps, and calm down as we gently stroke their necks and talk to them. Not all of them want to cuddle, and we respect that. My favorite hen does not like touching much, but she loves people, she wants to be close to people. My rooster, who was raised with her, is a cuddle-bug who wants to be in my lap or on my shoulder and talk into my ear. He respects me, and I've been able to teach him how to appropriately act. I let him chastise the other roosters if they're rough on a hen, but I stop him from being overzealous, and he is learning.
That is an important thing to realize.
They can, and do, learn
. The best thing for them to learn is that you are not a rooster to challenge or a hen to woo, but you will not harm them. You're a friend, a flockmate, a familiar face. You're not a threat, so there's no reason to fight or fear, no reason to keep the hens away from you.
Positive reinforcement absolutely works with chickens (hens and roos alike). Ours love dried peas, so we keep some on hand. When a bird greets us, we offer a pea or two, when they are good to one another they get treats. When they are unpleasant then they do not get treats, but are picked up and carried. Once they calm down and relax, they get a treat while still being held, and then we set them down.
I do not want my roosters to fear me or see me as a threat. I love my birds, and I do my best to show it. We have 11 roosters in our flock. Right now four of the boys are penned together because they are too young to know how to be polite to the hens. The others are all out among the hens, and everyone is quite content. The largest hen keeps the other boys in check, the two older loose boys keep each other in check, my rooster keeps the youngest boys in check. A very stable, comfortable dynamic has been established, and we are lucky enough to be a part of it.
Cockerels are full of hormones, yes, and because of our poor choice in selective breeding they can be over-defensive and/or aggressive when still young. If an older rooster is not in the flock to keep the young males in line, then the males in all of their hormonal lust and anger will be unpleasant toward the hens. Our answer is not to be rid of the roosters. We just separate the problem birds and give them time to mature. Sometimes a bird does need to be rehomed, if they cannot form healthy relationships within the flock, but so far this has been very, very rare.
A very important thing to note is that I do not treat hens and roosters differently. I don't feel the need to only handle hens and never handle a rooster because it's "disrespectful." If you don't want to disrespect an animal, that's good, but apply it to the entire species, yeah? Not just the males because you feel the male is somehow more deserving or demanding of respect. Hens and roosters get the same treatment because they're the same species that speak the same language and have the same comprehension of social dynamics.
Killing, beating, or getting rid of roosters because you do not understand them is not the answer. You might not ever end up with a healthy flock dynamic if that is your answer to a problem. Instead try to know your birds well enough to identify who is causing problems, why they are causing problems, and
fix it peacefully
. Yeah, it's a little more work, but it's worth it to me to see these animals in my care be happy.