The Horse
We've always had horses, even when we lived in suburbia. At that time we boarded out at various barns and at one point we had 4 going at once and it was costing a fortune! We eventually sold all but one of our horses who was then shipped out west to live with our former coach and family friend because we just could not bare to part with him. Now-a-days we live on enough land to own horses and currently only have one pony mare named Luna. Luna is about 8 years old, a QH or QH x and we adopted her from a rescue in Omemee. She was rather underweight and had almost no muscle tone when we got her home, but she's doing much better now. Currently she is only a pasture pet, but as soon as she gets a thorough inspection from the vet her future may look different. I suspect she has arthritis in her hocks, but enough of that! On to the photos!
Luna in her nifty new Weatherbeeta turnout shell. At the time I was really worried Luna would be cold because we were expecting freezing rain and we don't have a run in shelter yet. Patandchickens suggested I bring her in to the barn, but I wasn't sure how she'd feel about being cooped up in a smelly barn so instead we rushed out and bought a waterproof shell. The freezing rain didn't show up, but she was warm all winter long!
Luna way off in the field eating the heads off alfalfa sticking out of the snow, cheeky little girl!
I am also very proud to show off my newest addition, as of October 2009, Mylie has been apart of our silly, crazy, homestead lives. Mylie is a Sooty Palomino, Friesian/QH cross, 5 years old and almost 16hh. She has some training, but will be restarted under saddle come May. I can't wait to see Mylie and Luna in the pasture together this summer! But for now they're seperate.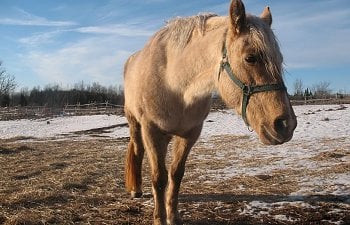 ​