Here is a picture of my "finished" brooder. I will post pictures of the "building process" when I get home.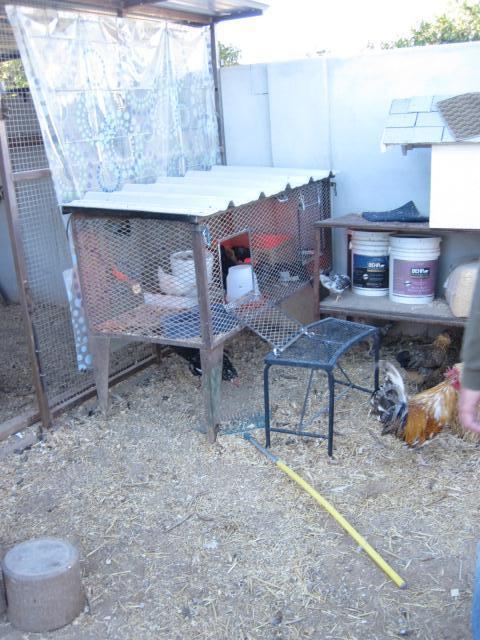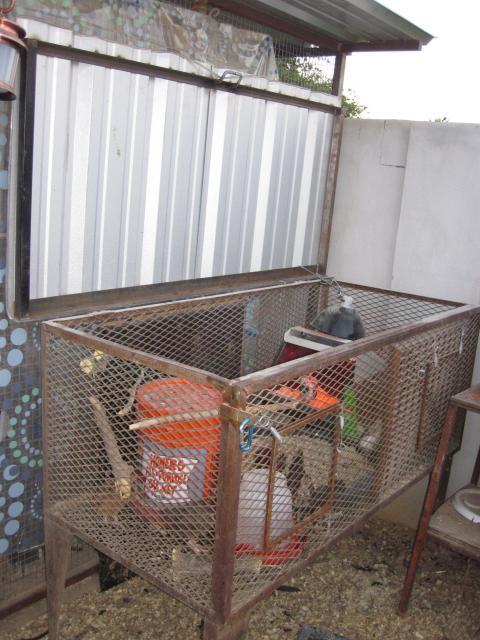 I got the main structure of the brooder from Alohachickens. Her DH hated it, as it is ugly, and so it became ours. Cost $0
The original structure was just a cage with no top, 4 legs, no doors, and a sketchy hinge that dropped the entire front down. 6 feet of possible escape for a chick.
The DH welded the front on permanently, cut two holes for doors, and added a hinged lid with a handle. The brooder can be sectioned off into two (or more) spaces if necessary,
The chick nesting box is made of an Microfiche Reader. I found it outside of our office building, unused, with that "new technology" smell. Cost $0--although I am sure my professional image suffered when the partners saw me dumpster diving in kitty heels, and then hair mussed, grinning like a fool, lugging my treasure back up to my cubicle.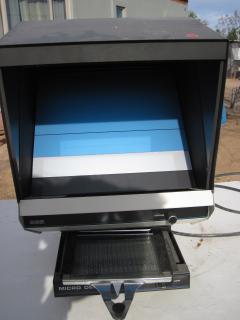 I took the bottom off, pulled out all the glass and mirrors, and removed any knobs/parts. Using a pair of pliers, I folded down any sharp metal "folds" or had the DH yank out the grommeted mirror brackets. The part facing the camera will become the "top" of the nesting box. This is where the heat lamp will sit: the "lip" fits the edges of the lamp, keeping it in place. I left the support bar in as added protection against the chicks "bonking" it when they get really active. No brooder fires please!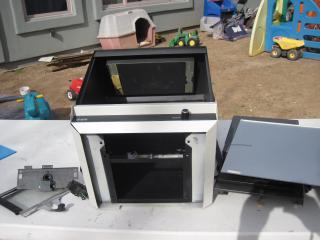 Then I put in the reader's index lexicon. It is a magnet, so I can maximize the chick's education, depending in where they are spending their time. It is important they learn their letters early.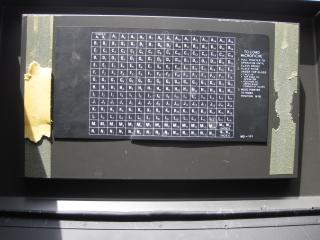 Here it is installed, you can see my roo Sweetcheeks in there making sure everything is up to snuff. I can raise or lower the heat lamp as needed. I also used the top level from an old grill as a "beginner's roost" for older chicks.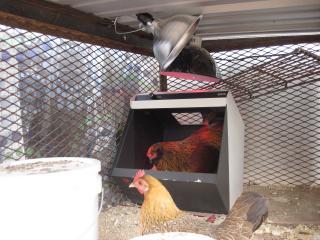 I also usually keep a lettuce box filled with shavings next to the heated nesting box. This gives chicks who no longer need the heat lamp a place to snuggle if they want. It also catches most of the roost droppings. Cost $0 at Costco. Any box will do.

Inside the brooder, I use an a homemade feeder and roosts.
Feeder:$2.39 bucket at Home Depot. Flower pot pan- $0 at garage sale.
Roosts: $0 downed tree after storm. Screws $.01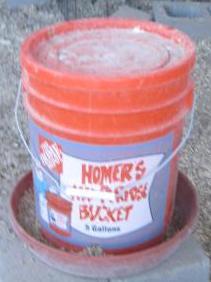 I don't like the chicks having to walk on wire all the time, so I also use short-nap carpet samples I pick up at garage sales, closing stores, etc. I turn the carpet upside down to keep them from pecking at the carpet, and making it easier to hose off.
Chicks like baths, so I have a water heater pan filled with clean dirt, DE, and wood shavings. Happy, happy, happy chicks. Cost $1 at the H4H store.