The Teacup Pterodactyl Townhouse
Click on images for bigger pictures.
We bought the Chick-N-Barn & Yard when we realized that our main coop and run wouldn't be finished before we needed to move our 21 Banty chicks outdoors. It was easy to assemble and came with all fasteners needed to put it together. I was really impressed that we were able to put this coop together in just one day. All that was left to finish at the end of the day was adding 1/2" hardware cloth to the frame.
Skip moves this to a fresh area, about once a month, for me as we still need to add wheels. The 2 x 4 frame makes it too heavy for me to move by myself.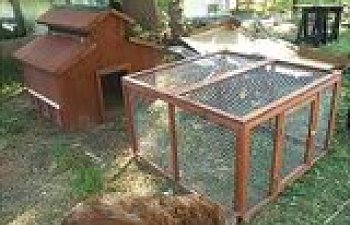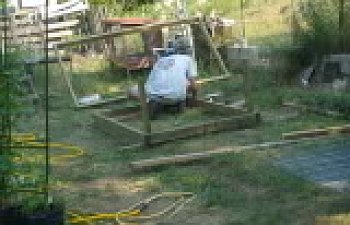 Barn dimensions: H: 46" W: 37 1/2" L: 45"
Yard dimensions: H: 26 3/4" W: 45 1/2" L: 45"
Frame dimensions: H: 24" W: 45 1/4" L: 82 5/8"
Modifications We Made:
~Frame is made of PTL (pressure treated lumber), joined together with screws. (Had on hand from framing project for the Playhouse Coop/Run)
~Added plywood floor to Barn. Covered door openings and vents with aluminum window screening and 1/2" hardware cloth for predator proofing. (Had plywood, screening and hardware cloth on hand from other projects)
~Substituted the roost that came with it with our own removable roosts for easier cleaning.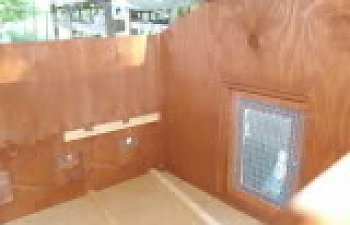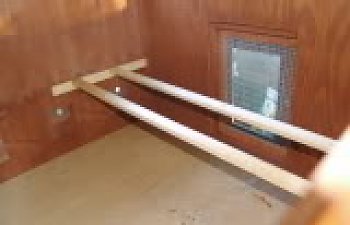 Moving Day...6/21/07...for our twenty one, 6 week old Bantam chicks...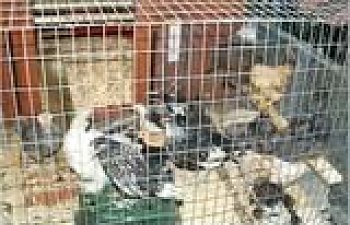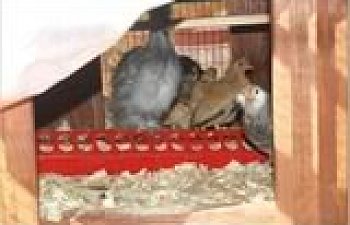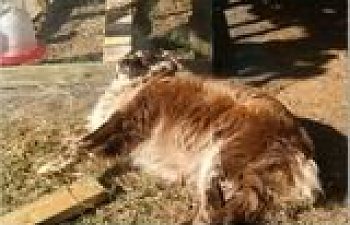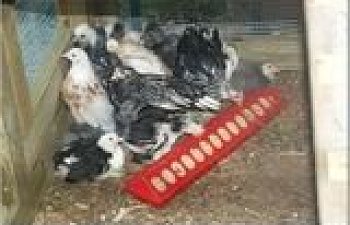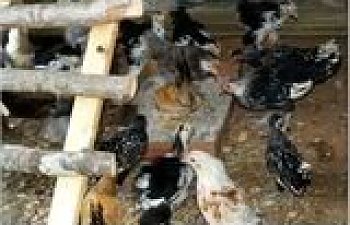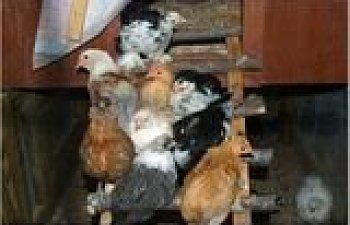 We finally finished with the playhouse coop/run on Labor Day weekend and moved the EE's, MC's, SS's, BTBJ's and lone SSH to their new home, leaving the Townhouse to our 5 Silkies.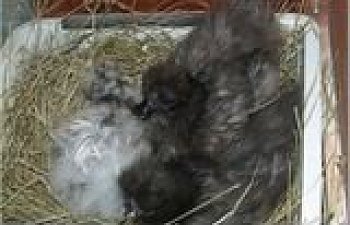 I decided to build an expanded run for the Silkies, just to give them more running room. It's made out of one cattle panel, 1/2 inch hardware cloth left-overs from the main run, and plastic hardware netting for a cover.
I decided to use the Deep Litter Method, even though I won't be able to get the litter too deep. I added two different pieces of wood to the bottom of their access door to help hold the litter in. Bottom piece is one of the "legs" we accidentally sawed off of the bottom of the Barn. When I decided to see how the DLM worked in here, I added a section of 2" x 4" to allow me a few more inches of depth.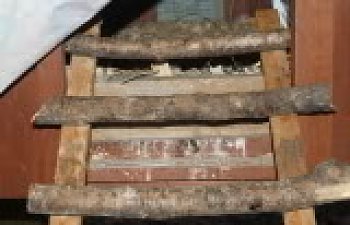 There's about 4" of large pine shavings (mixed with food grade DE) in the Barn so far...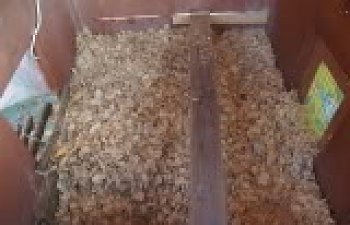 Here's what I use as a litter-stirring stick. It's just a scrap piece of 1" x 2" board, with tape around the "handle", so I don't get splinters.
Thanks for stopping by and checking out our pages!
Dawn & Skip