The Chickwagon


Tom Delehanty (Owner of Pollo Real) and Frances Deters developed a moveable chicken coop designed for the urban chicken farmer. Contact

[email protected]
This chicken coop is durable (made of 3/8 " rebar), predator proof, and lightweight (weight 60#). It is small enough to fit in a pickup truck (5'x 7') but large enough for 12 -15 chickens.
The chickens will develop soil for the backyard garden and it comes with an optional grow cover so it can be used to extend the season.​
This is a front view with co-designer and fabricator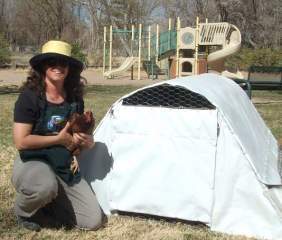 The optional grow cover model is pictured in front in this shot: