My husband and I finally got our place in the country. We started off with our two cats and now have a small family farm . We have built our animal housing from mostly salvaged materials. We now have 4 chicken housing areas, 1 turkey house and a small barn for the two ponies and two goats that we have.
Another chicken house! Built primarily from salvaged materials. Hope to repaint and finish the roof before winter.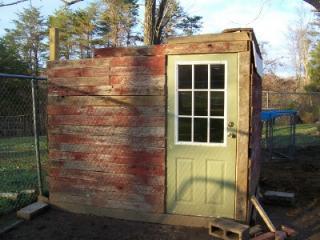 This is our Turkey House. It was constructed mainly from lumber from a corn crib. It will get a new coat of paint in the spring. It currently houses a pair of Black Spanish turkeys and three Bronze turkeys. I may have to build another house this spring.
This is our first chicken house. We added plywood floors, a divider down the middle when we increased in chickens, and added screen doors. The left side houses Barred Rocks and the right side is for our mixed chickens.