I need a RELIABLE incubator....
Though I have two LG incubators, my hubby and I decided to build our own incubator for a few reasons. I want one that's reliable, easier to clean/disinfect and one that will fit in nicely with the rest of the room.
I have many items that I will be able to use for this project without it costing an arm and a leg, but I will be purchasing some items for it too. It will still be fairly cheap.





Here are a list of some of the things I have seen and want to include in my building plans...


* see-through door (already have plexiglass for this)
* water funnel on outside with tubing run into water pan (to add w/o opening the door)
* fan (for even circulation of warm air-I don't have one of these installed in any of the LG's right now & probably one of my hatching issues)-I purchased a small fan at Wally World for under $10 ( I think).
* turner (decided to use the auto turners I have here instead of building some at this time)
* more to come.....
I love, LOVE, LOVE garage sales!
I found an old wooden box that looked like a chest for blankets or something. Then upon closer inspection, I could see where a marker leaked in one of the corners. An old toy box would become MY NEW TOY! The guy at the sale wrestled it into my little car for me. Actually, it's very lightweight which is nice for me. I'm able to move it around very easily while working on it. It is missing it's lid, but still has the hinges that we can hang our new door onto. (I can just imagine some little kid stuffing too many toys into it and sitting on the lid over and over until it broke).
My hubby is pretty handy and can build me a new door for it. I'd like something with a large, oval peeking window. (I can just imagine when the chicks hatch and imprint on the kids with the pig noses against the window. hehe :O)
Best part about THIS box?
(The upside down sticker in the upper right corner.)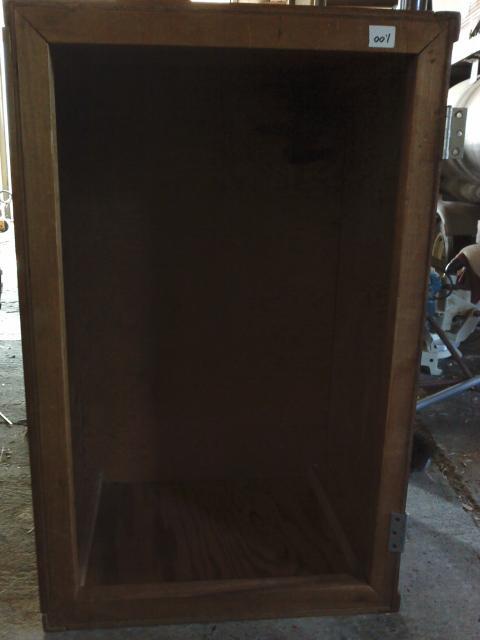 _____________________

My hubby went to Lowe's and bought one 4x8 sheet of 3/4" foam insulation for $22 and change. I taped the seams with aluminum backed tape that a relative had, so it's still a cheap project so far. (Had plenty of insulation left over for building a separate hatcher down the road-for now I plan to use my LG as a hatcher, so I can have staggered hatches.) Looks nice and bright and should be easy to keep clean. Yay!
Total so far--> $23
_____________________________