My Chicken Addiction ... The Spark
So...I acquired two chickens this summer. They came with no names, instructions or info...just an open 50lbs bag of scratch and two hens with their legs tied together in a plastic crate. They were totally unexpected and we kinda scrambled to make a place for them in the garden which at that time had been taken over by weeds and bugs. Well, a lot has happened since then.
​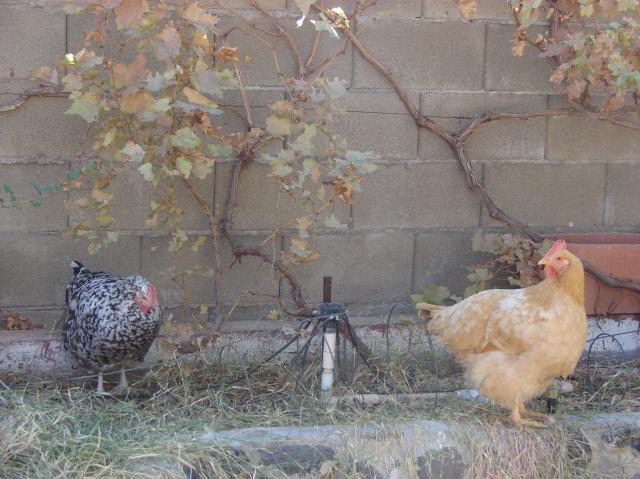 You could say that an old dream began to find fruition. We'd had chickens when I was young and I'd always wanted to raise them again, but never even considered keeping chickens in the city. I don't know why, I mean, we have heard roosters here on and off for years. As you may know, chickens are addicting. Soon we decided we'd like to get some more chickens. We began to plan a hen house and run. We used wood that we'd had stacked in the backyard for years. We enclosed our run to keep the chickens in and the doves out. We made automatic feeders and waterers. We are all about the 3 R's (reduce, reuse, recycle). We found various breeds of hens and pullets on craigslist to expand our flock and I love the diversity in their looks and the many different colors of eggs they lay.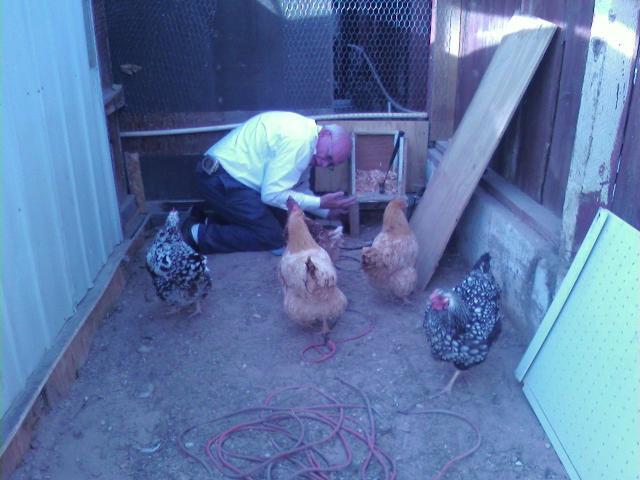 Here's some very nosy, bossy girls supervising my dad's work and suggesting all sorts of ways he could upgrade it and make it better. The best part is that at the time, none of these hens were laying!
This chicken stuff has sure been an adventure so far. I have learned so much and met so many great people that shared their knowledge and experience with me. I have found the impossible dream to be anything but. Now all I need are a few more breeds…and a lot more room! Oh yeah, and a rooster that won't crow!!!

J

I know. Dream on, right?!?


I love this poem...it expresses what being a backyard chicken keeper means to me.


An Ember in the Dark



Faintly, along the shadowed shores of night
I saw a wilderness of stars that flamed
And fluttered as they climbed or sank, and shamed
The crouching dark with shyly twinkling light;
I saw them there, odd fragments quaintly bright,
And wondered at their presence there unclaimed,
Then thought, perhaps, that they were dreams unnamed,
That faded slow, like hope's arrested flight.
Or vanished suddenly, like futile fears--
And some were old and worn like precious things
That youth preserves against encroaching years--
Some disappeared like songs that no man sings,
But one remained--an ember in the dark--
I crouched alone, and blew upon the spark.
-Louis L'Amour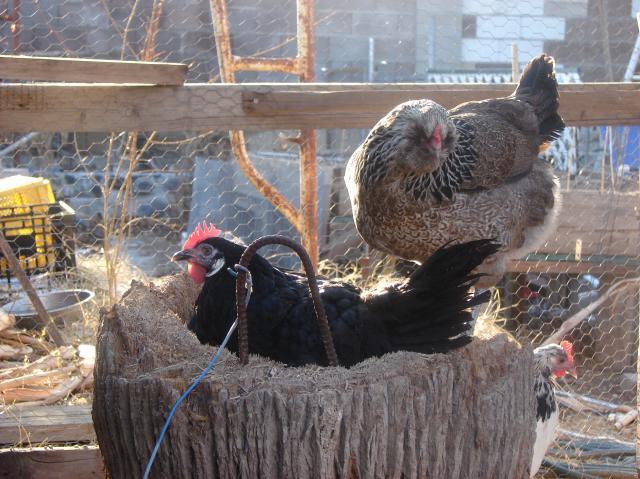 Check out my other pages...especially the Egg-Role to see pics of all my beautiful girls!