Welcome To Teresa's Silkies!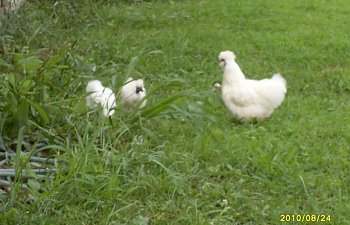 Welcome to my page, My Name is Teresa and I have been into silkies for about 5 years. I raise white/black/blue/partridge/gray/ and I raise a mixture of colors. I also raise Showgirls in gray and white and a Mixture of colors.
I do sell chicks but they are pick up only I do not ship them.
I do sell eggs, if interested in eggs plz check under the egg's for sale page.
To see pictures of some of my silkies check out my page my silkies.
If you have any questions please contact me.
Some pics of my babies I have hatched.