Come check out hundreds of awesome coop pages (and a few that need suggestions) in our 2018 Coop Rating Project!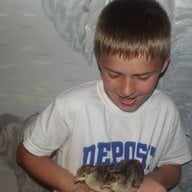 Loading...

Loading...

About

Location:

Real Name:

Corinne

Interact

Signature

I have about 20 Mature Hens and Roosters Different Breeds (RIR's, EE's, OEGB, Buff Orp.'s) and approximately 60 Chicks different ages and a large variety adding more constantly (Jersey Giants, Black Australorp, White leghorn, Buff Orps.'s RIR and mixed bred), Three Dogs One Pure Bread Doxie two mixed Breeds, 4 Ducks (2 white Peking, One Muscovy, One mixed breed)2 baby Mallard chicks , 2 rabbits (expecting ), and two Goats ( one expecting ) (Saanen and Alpine) 2 young Bronze Turkeys .. 18 Guinea Keets Coming ! ..
** And Seven Wonderful Children Most grown : ( 8 Beautiful Grand kids ) And The Most understanding indulgent Husband .. Who never wanted any animals .. And yet is for ever building me new coops .. additions breeder boxes and more <3

Loading...

Loading...

Loading...