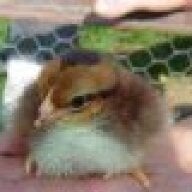 crnagora95
Out Of The Brooder
Loading...

Loading...

Interact

Signature

John 3:16- For God so loved the world that He gave His only begotten son, and who ever shall believe in Him shall have eternal life.
He also gave us chickens!
Hope to be to owner of six hens in the near future: 1 Ancona, 1 Australorp, 1 Barred Rock, 1 Exchequer Leghorn, 1 Speckled Sussex and 1 Golden Laced Wyandotte.

Loading...