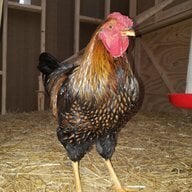 Last Activity:

Mar 11, 2018
Joined:

Jun 23, 2017
Messages:

7
Likes Received:

9
Trophy Points:
Gender:

Female

Location:

Occupation:

Preschool Teacher
dazluv1977
In the Brooder, Female, from Adams, Tennessee
I am contemplating a spring cleaning on the chicken coop. I am afraid we might get one more cold snap and the deep litter will be needed. Mar 11, 2018
dazluv1977 was last seen:

Mar 11, 2018
Loading...

Loading...

About

Gender:

Female

Location:

Occupation:

Preschool Teacher

Real Name:

Daisy

What's your main reason for joining our community?:

new to raising chickens

Hi,
My name is Daisy. I am new to chickens. I just got my first flock a week and a half ago, 14 ladies and one boy. I went with a mix because I wasn't sure exactly what I wanted. I went with a Golden Laced Wyandotte Rooster. I also have 3 GL Wyandotte hens, 2 Dominiques, 2 RIR, 1 Red Star, 1 Buff Orpington, 3 Barred Plymouth Rock, 1 White Leghorn, and 1 Australorp. I would love to add Buckeyes, Welsummers, and Columbian Wyandottes to the flock, but I am going to wait to see how these gals work out.
I am a preschool teacher and we incubate eggs every year. A couple years ago we decided to keep 2 of the chickens. Now we have Henny Penny (a Red Star) and Silly Goose (a Columbian). The children love to feed and count the eggs every day. I was weary about raising so many chick to start out, so my boss agreed to take one of the hens to join our school flock. I am waiting to learn their personalities a little better before deciding which lady to take to work with me. One of the RIR is going to be joining a friends flock. She lost her favorite leghorn to a hawk and wants to round out her flock again, but didn't want to raise the chick.
When I am not wiping chicken bottoms...pasty butt is gross...I like to knit, go fishing, and hanging out with my family. I am married and we have three boys between us. They are 25, 23 and 12 years old. I am also a Memaw to a jovial 2 year old. I can't wait for him to meet the chickens. He is going to love them.
Besides the chickens, we have Annie, a six year old black lab. We recently had our 13 year old cat put down so the chicks have been a nice distraction. We love to feed and watch the the wild birds, especially the humming birds. After adding a waterfall feature to the back yard we gained resident frogs and tadpoles; much to my enjoyment.
I found this site when researching chicken breeds on the internet. I am probably going to need a ton of help but I think the members of this site will make this a pleasant experience. Thank you, in advance, for your advice and lending me your "ear."

Interact

Signature

I dream of a better world where chickens can cross the road without having their motives questioned.