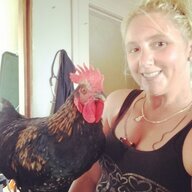 Gender:

Female

Birthday:

November 14

Location:

Occupation:

Certified Canine Behavior Consultant
Golden Chicken Master
Chirping, Female, from Hilton, NY
I love hearing my Roo cooing to me!!! He is so amazing! Aug 15, 2019
Golden Chicken Master was last seen:

Oct 15, 2019 at 8:52 AM
Loading...

Loading...

About

Gender:

Female

Birthday:

November 14

Location:

Occupation:

Certified Canine Behavior Consultant

Real Name:

Stacy Fleming

My Coop:

What's your main reason for joining our community?:

I raise ems dogs, goldendoodles and goldens and I just ventured into chickens and reptiles! I have one amazing rooster who has 19 hens all born in the spring around March so they should be giving me awesome eggs soon and I would love to compare stories, learn more about breeding (incubating), feeding etc..

Hello all, I am using the template so you all can get a good idea of me!

(1) Are you new to chickens / when did you first get chickens?
Yes I am new to Chickens, I have 20 (1 rooster 19 hens) I got them as 1 week olds in April 2019

(2) How many chickens do you have right now?
I have 20!!!

(3) What breeds do you have?
Australopes, Black sex links, Leghorns (brown) ...

(4) What are your favorite aspects of raising backyard chickens?
They are so peaceful and make me very relaxed!

(5) What are some of your other hobbies?
I am a dog breeder, I breed Goldens and Goldendoodles typically used for emotional support dogs. I own 20 dogs of my own who live in one of my houses so they have an entire home of their own; 10 are Goldens; Goldens are my favorite dogs although they like my chickens too much... Luckily I have a fantastic make shift enclosure that I created to secure them (lucky to be handy). I also have bull frog tadpoles (something I used to do as a kid but from the pond), I just bought 2 Panther Chameleons one male and one female from an amazing breeder in KS and I plan to breed them eventually. I also have just started ordering the items I will need to raise my own feed (banded crickets) for my Chameleons. I call my homes my sanctuary as I have no desire to go on vacation (and cant with the responsibilities I have), I keep all my retired dogs in my house where my humans, chameleons and goldfish live so they can be with me until the end! They are first and foremost my pets! (6) Tell us about your family, your other pets, your occupation, or anything else you'd like to share.
Well I think I mentioned in the last question but I left out my human counterparts, theres my spouse Greg and my 2.5 year old animal loving son Dillon, and myself, Stacy. I am a certified canine behavior consultant and a post masters student in applied behavior analysis.
(7) Bonus: How did you find BYC, how long have you known about BYC, and what made you finally join our awesome community?
I actually had been googling chameleon info to try to get tips on providing the best care and I joined their forum and I thought it was apropos to join a chicken forum as well as these are truly my hobbies!

Interact

Signature

Stacy Lynn Parks Fleming, M.S., CBCC-KA, CBST, ABCDT
Certified Canine Behavior Consultant; Golden & GD Connoisseur & Chicken Collector

Loading...

Loading...