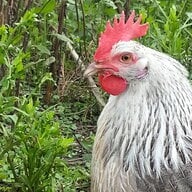 Gender:

Female

Birthday:

October 28

Location:

Occupation:

Poultry Wrangler and critter petter
GoldenGryphon
Songster, Female, from South South East Texas
10 Years
"In three words I can sum up everything I've learned about life: it goes on." Robert Frost May 18, 2019
GoldenGryphon was last seen:

May 18, 2019
Loading...

Loading...

About

Gender:

Female

Birthday:

October 28

Location:

Occupation:

Poultry Wrangler and critter petter

Real Name:

Kristine

What's your main reason for joining our community?:

To find similarly minded people willing to share experiences and information about poultry and the best ways to manage living a full life with feathered bipeds.

"A human being should be able to change a diaper, plan an invasion, butcher a hog, conn a ship, design a building, write a sonnet, balance accounts, build a wall, set a bone, comfort the dying, take orders, give orders, cooperate, act alone, solve equations, analyze a new problem, pitch manure, program a computer, cook a tasty meal, fight efficiently, die gallantly. Specialization is for insects."

- Robert A. Heinlein

A human being. I can accept that. There are no "female only" or "male only" jobs unless they require a specific body part to do them. Any *qualified* person should be able to do whatever they like.

Other than that? I'm willing to listen to whatever you have to say, and willing to answer any question put to me.
I have been numerous 'people' in my life - wife, help-meet, partner, daughter, student, and teacher. I'm always interested in learning something new.
If you wonder something about me, feel free to ask. I am around and will try to respond as quickly as Life and Reality allow - be warned, I do lose myself in the struggle from time to time, so I'm not ignoring you - I might need a little nudge, though. Don;t be afraid to ask for what you want, or nudge a bit.

Interact

Signature

Beware of strong drink. It can make you shoot at tax collectors and
miss. - Robert A. Heinlein

GoldenGryphon / Cassandra Starrswife / Kristine Keeney - libertarian, free-thinker, trainer of rambunctious dogs, seamstress extraordinaire

Loading...