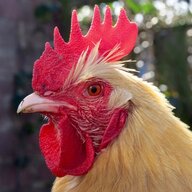 Gender:

Female

Birthday:

April 22

Location:

Occupation:

Photographer and Bird Momma
Hybridchucks
Queen Of The Coop, Female, from Burdsville
3 yEarS on BYC! So grateful for this amazing community <3 Jul 13, 2019
Hybridchucks was last seen:

Sep 22, 2019 at 4:02 AM
Loading...

Loading...

About

Gender:

Female

Birthday:

April 22

Location:

Occupation:

Photographer and Bird Momma

Real Name:

Tov

My Coop:

What's your main reason for joining our community?:

Joining this site has been the best choice I have ever made. Received loads of important information on chickens. (and all birds in general!) Found so many awesome friends, lost friends, learnt many valuable lessons, just an overall AMAZING site, and a big shoutout to all the hard working admins who keeps this place running smoothly!

I have an Allotment (rented garden) in which I lead sort of a farmer's life, growing crops, spending family time there, and raising birds to live happy lives, and in return, we get eggs!

I own 1 rooster, 10 hens, 2 ducks, 1 drake, 8 quail and 2 pigeons. (the birds that live in the house are not included. The birds that live in the house are budgies, diamond doves and zebra finches.)

All the birds are named and each have their own special little characters. The chickens are named the following.

Casper, Agnes, Mabel, Scarlet, Polly, Rowen, Ronda, Elsa, Anna, Alexa, Aravis (rescue), Susie (rescue) and last but not least.....Charlotte (the escape artist). (RIP Ginger, Amber, Ruby, Gabby, Little Red, Speckled and Queeny, (Productive Reds, Buff Orpingtons and the 2 rescues are mixes)

Claudia and Caramel. (Khaki Campbell ducks)

Pippin (Grey Bibbed Call drake)

My father built me an aviary for all my small delicate birds, in it are 8 Coturnix quail and 2 pigeons, the 2 original quail (Duke and Lizzy) I got from a friend, went broody and hatched 6 chicks (Bree (f), Remmi (m), Candy (m), Basil (m), Primrose (f) and Princess (f)) all by themselves. (RIP Tiger, male Button Quail, my best friend. I miss you so much.)

The Pigeons are both rescues, and both females (hopefully will be able to buy a couple of males for them both) and their names are Juniper and Remelia

lol

The Free House Birds

_________________

My mother asked me if I wanted a pair of Diamond doves and I was overjoyed to accept this offer! So now I have two Diamond Doves who are madly in love with each other, and watching them flirt together is hilarious I can tell you that.

Their names are Dimitri and Delores

The Budgies are Verde (m) (Italian for 'Green' and Cielo (f) (Italian for 'Sky Blue'), they are little brats

(RIP Mickey and Monty)

The Zebra Finches are called Spock and Zebbie, they are the sweetest things ever.

( RIP Willow and Zeppo

)

_____________________________________________

13 Chickens

3 Ducks

8 Quail

2 Pigeon

2 Budgies

2 Zebra Finches

2 Diamond Doves

= 32

Love my babies so so much

Please take time to follow my Instagram Photography Account! Thanks in advance

https://www.instagram.com/_tovphotography_/

-Tov

Interact

Signature

Life is like a game of chess!
...I don't know how to play chess..

Loading...

Loading...