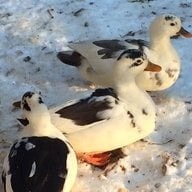 Gender:

Female

Home Page:

Location:

Occupation:

Farmer/ Office Manager
learycow
Crowing, Female, from Southern Maine
8 Years
Update on available birds: Aug 15, 2017
learycow was last seen:

Jun 18, 2019 at 2:53 PM
Loading...

Loading...

About

Gender:

Female

Home Page:

Location:

Occupation:

Farmer/ Office Manager

Small waterfowl breeder in Southern Maine. I ship eggs, ducklings, juvies and adults to most US states. NPIP certified.
Ancona ducks (black, blue, chocolate, silver, lilac and lavender)
Muscovy ducks (focus on barred, ripple and looney in many colors)
Call ducks (focus on ancona, magpie, and pied patterns in black, blue, chocolate, silver, and lilac. Also breed silvers and lavenders)
Silkie ducks (many colors, working on these in pied patterns also)
Sebastopol geese (splash, grey, saddleback, blue splash, buff, lilac and lavender)
Mini Sebastopol geese (saddleback, grey, white, blue, blue pied and blue splash)

Also have a small flock of silkies, sizzles, and showgirls in black, paint, blue, splash, cuckoo, blue cuckoo, porcelain, grey and blue partridge

Interact

Signature

NPIP CERTIFIED! Al's Quackery is a small waterfowl farm in Southern Maine. I raise ducks, ducklings, geese, goslings and sell hatching eggs.
Ducks: Anconas (Black, Blue, Chocolate, Lavender, Lilac and Silver), Muscovy (barred in black, blue, chocolate and combo, ripples in dark, chocolate, and blue shades, lavenders, and looneys in blue, black, chocolate and lilac)
Call Ducks: pied / magpie calls (black, chocolate, lilac, silver and blue)
Silkie Ducks: Pastel, blue fawn, black, black pied, and blue pied
Geese: Sebastopol geese, and Mini Sebastopols.

http://alsquackery.weebly.com/ UPDATED with current for sale birds and hatching eggs!

Loading...

Loading...

Loading...

Loading...