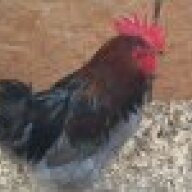 MaransMomma
Out Of The Brooder
Loading...

Loading...

Interact

Signature

Mom to 2 boys, wife to a loving husband whose not too sure about the whole chicken thing," momma" to Blue Boy, Ms. P'Cock, Kaleaka and Buffy.
Waiting for the time the LORD will allow me to move my flock to the warm tropics of Hawaii~
Hebrews 11:1 Faith is being sure of what we hope for and certain of what we do not see~

Loading...