If this is your first time on BYC, we suggest you start with one of these three options:

Not a member yet?

join BYC here

& then

introduce yourself

in our

community forum here

.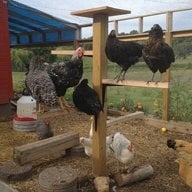 MyLittleRedCoop
Songster, Female
6 Years
MyLittleRedCoop was last seen:

Jun 1, 2018
Loading...

Loading...

Interact

Signature

"Remind me of this with every decision: Generations will reap what I sow. I can pass on a curse or a blessing to those I will never know."

~ Sara Groves, Generations Wife of a very understanding and patient husband. Mom to 4 kids, 5 yrs to 14 yrs old. Sharing our home with 2 happy dogs, 3 spoiled cats, 2 gerbils and 29 chickens - Australorps; Ameraucanas; Delawares; Dominiques; Buff & Light Brahmas; Buff, Black and Blue Orpingtons, Partridge Cochins, Welsummer, Speckled Sussexes, and Black Copper Marans.


Loading...

Loading...

Loading...