Come check out hundreds of awesome coop pages (and a few that need suggestions) in our 2018 Coop Rating Project!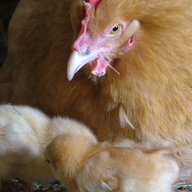 Number7hen
In the Brooder
Number7hen was last seen:

Jun 29, 2015
Loading...

Loading...

Interact

Signature

Chicken water: Cayenne pepper, cinnamon, garlic, turmeric, cloves, acv, thyme.
This is what I sometimes use in my chicken water. I started doing it when one of our hens showed signs of Internal laying, and now she is back to normal. She hasn't had internal laying again, not yet at least. Not at all sure if this really cures Internal laying, but if you're desperate, as I was, it's worth a shot.

Loading...

Loading...