Come check out hundreds of awesome coop pages (and a few that need suggestions) in our 2018 Coop Rating Project!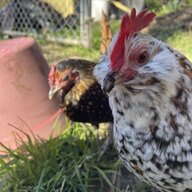 RoostersAreAwesome
Crowing
I just got three new chickens! Four month old serama/d'uccle mixes, two cockerels and a pullet (avatar pic). Jul 11, 2018
Loading...

Loading...

About

What's your main reason for joining our community?:

Learning more about chickens and giving advice when I can.

Interact

Signature

"The answer of everything is rooster flocks" ~RoostersAreAwesome
I currently own 5 standard roosters, 2 bantam hens, and 4 bantam roosters.

Loading...

Loading...