If this is your first time on BYC, we suggest you start with one of these three options:

Not a member yet?

join BYC here

& then

introduce yourself

in our

community forum here

.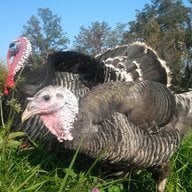 Loading...

Loading...

About

Interact

Signature

After caring for parakeets throughout high school and ultimately rehoming them, vowing never to own such messy animals again, I never saw my adult self as a "bird person", but that was 2 turkeys, 2 peafowl, 8 pullets & 7 ducklings ago.... I may be developing an addiction to feathered friends.

Loading...

Loading...