General Information
Breed Purpose

Dual Purpose
Comb

Pea
Broodiness

Average
Climate Tolerance

All Climates
Egg Productivity

Medium
Egg Size

Medium
Egg Color

Blue/Green
Breed Temperament

Friendly, Flighty, Easily handled, Calm, Bears confinement well, Quiet, Docile
Breed Colors/Varieties

Black, Blue, Blue Wheaten, Brown Red, Buff, Silver, Wheaten, and White. Colors being worked on include Lavender, Splash, Splash Wheaten, Mottled, Salmon, Red Pyle and Black Gold.
Breed Size

Large Fowl
The Ameraucana is an American breed of chicken developed in the USA in the 1970s. It was derived from chickens brought from South America (Chile) that carried the blue egg gene and was bred to maintain the blue egg colour gene of that breed. There is also an Ameraucana bantam variety and both the LF and bantam variety were added to the APA Standard of Perfection (SOP) in 1984. Recognised varieties are: Black, Blue, Blue Wheaten, Brown Red, Buff, Silver, Wheaten, White.
The Ameraucana is one of the few chicken breeds to lay blue eggs, another being the Cream Legbar, which also have an Araucana influence. The Ameraucana breed shows many similarities to the Araucana breed, such as pea combs and of course the blue egg gene. The Araucana however has earmuffs and is rumpless, whereas the Ameraucana has a tail and is muffed and bearded. Their earlobes are small and round, wattles small or absent, earlobes, comb and wattles are all red. Their shanks are slate-blue, (tending to black in the Black variety). In Australia and UK both Ameraucana and Araucana breeds are viewed as varieties of the Araucana - tailed and rumpless.
Less rare than Araucanas, Ameraucana are still considered quite rare. They are often confused with Easter Eggers (EE's are often advertised and sold as Ameraucanas), which can lay blue AND green eggs.
See here:
Differences Between EEs, Ameraucanas, and Araucanas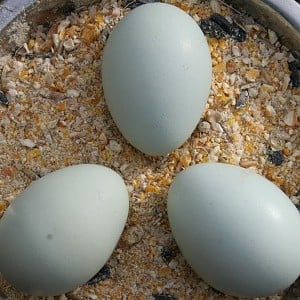 Ameraucana eggs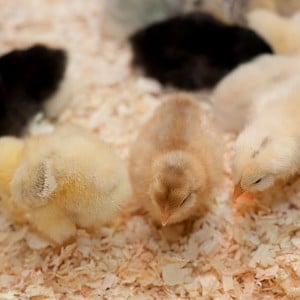 Ameraucana chicks
Ameraucana pullet
Ameraucana rooster
For more info on Ameraucanas and their owners' and breeders' experiences, see our breed discussion here:
https://www.backyardchickens.com/t/975512/chicken-breed-focus-ameraucana/0_30