General Information
Breed Purpose

Dual Purpose
Comb

Pea
Broodiness

Average
Climate Tolerance

All Climates
Egg Productivity

Medium
Egg Size

Medium
Egg Color

Blue/Green
Breed Temperament

Friendly,Flighty,Bears confinement well,Quiet
Breed Colors/Varieties

APA recognizes: Black ,White ,BBR, Silver & Golden Duckwing.There are also many none standard colors, we have Lavender araucana in development ourselves.
Breed Size

Large Fowl
Araucana is a very rare breed with much controversy and numerous challenges. Hatcheries add to these challenges by misrepresenting their mongrel Easter Eggers as Araucana and Ameraucana chickens. Araucana and Ameraucana chickens are breeds, which are recognized by the American Poultry Association (APA). Easter Eggers are not a recognized breed because they are a cross of different breeds to produce various plumage colors and eggshell colors. Easter eggers are a novelty for backyard folks who enjoy pretty chickens that lay various colored eggs. Enthusiasts typically breed Araucana and Ameraucana to a standard of perfection to preserve their historical value.
The origin of the Araucana is still up for debate, however many believe they came to America from South America, sometime during the 1920's or 1930's. The primary reason for breeding Araucana was because of their ability to lay blue eggs. They are often considered dual-purpose fowl and make good table fare. For a smaller standard size breed, hens typically lay nice medium sized eggs.
The Araucana have two distinguishing characteristics that set them apart from the other breeds. They are rumpless (have no tail and the complete absence of a tail bone) and they have tufts (often called "earrings"), which grow from a protuberance (or fingerlike appendage)called a peduncle around the ear lobes or neck area. Tufts can be bilateral, unilateral and even trilateral.
The tufted trait is a lethal gene on Araucana, which makes it difficult to breed. Two copies of the tuft gene are fatal and results in chicks dead in the shell, typically around days 18-21 in incubation. Even a single copy has been known to reduce hatchability, making this breed very difficult to propagate.
The rumpless trait has produced challenges for breeders as well. This includes backs that get very short, from excessive rumpless to rumpless breeding, which results in future generations being unable to breed naturally. Rumplessness does not occur consistently in breeding Araucana, which results in chicks hatching with partial tails and even full tails. This can make for a lot of culling and very few selections to choose from for the show ring.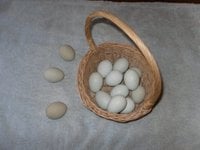 Araucana eggs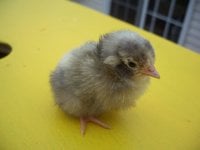 Araucana chick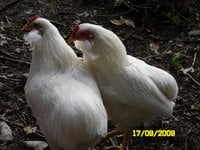 Araucana hens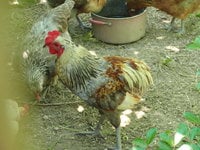 Araucana rooster
For more information on this breed and their owners' and breeders' experiences with them, see our discussion here:
https://www.backyardchickens.com/threads/chicken-breed-focus-araucana.1126008/