General Information
Breed Purpose

Dual Purpose
Comb

Single
Broodiness

Average
Climate Tolerance

All Climates
Egg Productivity

High
Egg Size

Large
Egg Color

Brown
Breed Temperament

Friendly, Easily handled, Calm, Bears confinement well, Quiet, Docile
Breed Colors/Varieties

Black, Blue and White are recognised in the Australian Poultry Standards
Breed Size

Large Fowl
APA/ABA Class

English
The Australorp is an Australian breed which was developed from Black Orpingtons imported into Australia starting around 1890. The egg laying ability of the Orpingtons was emphasized by the Australian breeders, and other breeds including Minorca, Leghorns, and Langshans were bred into the lines to increase egg production and decrease broodiness. The result was a bird with exceptional egg laying ability. They were popular entries in egg laying contests in the day and for years Australorps held many of the world egg laying records, one hen famously laying 364 eggs in 365 days.
These "Australian Black Orpingtons" were given the name Australorp around 1920. Australorps were exported in the US and England in the 1920's, where they were an immediate hit because of their great egg laying ability, and they remain a very popular breed to this day.
Australorps are a medium sized breed. The APA recognises only one color, the original Black, but there are several other colors developed by breeders, including Blue and White, which is recognized in Australia.
They tend to be calm, docile, fairly quiet birds, with nice temperaments and they make good pets. The roosters are generally good natured. They are dependable winter layers of big brown eggs, fairly heat tolerant despite the usually black feathers, and quite cold hardy. They generally do not fly well and take well to confinement. The hens will occasionally go broody and make good mothers. They are very popular with backyard flock owners looking for a friendly productive brown egg layer, and small flock owners looking for a duel purpose breed with hens that have excellent laying ability.
It was recognized by the APA in 1929 and it is on The Livestock Conservancy's Recovering list.
First egg laid by an Australorp pullet: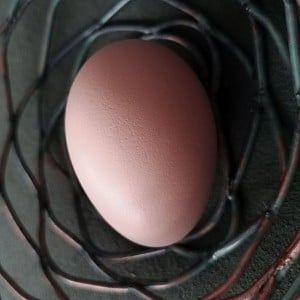 A male and female Australorp, aged 11 weeks:

Australorp rooster: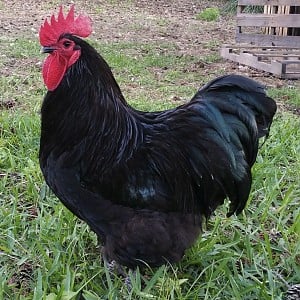 Australorp hen:
​
For more on this breed and owners' experiences, likes and dislikes, see our breed discussion here:
https://www.backyardchickens.com/threads/chicken-breed-focus-australorp.988347/