General Information
Breed Purpose

Ornamental
Comb

Rose
Broodiness

Frequent
Climate Tolerance

All Climates
Egg Productivity

Medium
Egg Size

Small
Egg Color

Light Brown
Breed Temperament

Aggressive,Friendly,Easily handled
Breed Colors/Varieties

This Breed has 14 recognized varieties: Quail, Black, Self Blue, Blue, Mottled, Cuckoo, Mille Fleur, Blue Quail, Buff, BBR,Porcelain, White, Colombian and Buff Colombian.
Breed Size

Bantam
The Belgian d' Anver is a breed of bantam chicken from Belgium. A true bantam, it has no full-sized counterpart, males weigh about 700 grams and hens about 600 g. The Barbu d'Anvers is one of the oldest known bantam breeds, and is thought to have originated in the province of Antwerp in Northern Flanders. The first reliable written mention of the breed dates from 1858 and the first description is that of Victor La Perre De Roo in 1882. In Belgium 29 colour varieties of plumage are recognised in Germany there are six more.
The breed is usually kept for ornamental purposes, as pets or for exhibition. The hens make good sitters and are good mothers.
In the United States d'Anvers may be called the Antwerp Belgian or Belgian Bearded d'Anvers and was included the of the American Poultry Association's Standard of Perfection in 1949.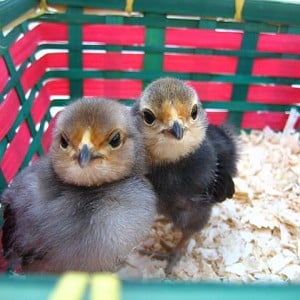 Belgian d' Anver chicks
Belgian d' Anver hen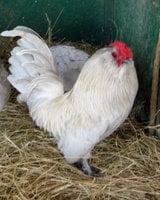 Belgian d' Anver rooster
For more information on this breed and their owners' and breeders' experiences with them, see our breed discussion here:
https://www.backyardchickens.com/threads/chicken-breed-focus-danvers-bantams.1157315/