General Information
Breed Purpose

Ornamental
Comb

Single
Broodiness

Average
Climate Tolerance

All Climates
Egg Productivity

Medium
Egg Size

Small
Egg Color

White
Breed Temperament

Friendly, Flighty, Easily handled, Calm, Bears confinement well, Docile
Breed Colors/Varieties

Mille Fleur, Black, Porcelain, Golden Neck, Mottled, Self Blue, White
Breed Size

Bantam
APA/ABA Class

Feather Legged
The Belgian d'Uccle was first bred in the town of Uccle on the outskirts of Brussels, Belgium, from where it took it's name. The Barbu d'Uccle was created by Michael Van Gelder of Uccle, Belgium, in the early years of the twentieth century and is thought, but not known for certain, that he crossed the existing Sabelpoot and Barbu d'Anvers bantam breeds. The Barbu d'Uccle was first exhibited in 1905.
In 1911, the American artist and poultry enthusiast Arthur O. Schilling saw the mille fleur variety of the breed during a trip to Europe, and imported several to the United States. Schilling, who photographed and illustrated many breeds for the Standard of Perfection of the APA, was visiting C. S. Th. van Gink, another poultry artist of the era, when he took a liking to the breed.
A small breed, the American Standard specifies an ideal weight of 26 oz for cocks, 22 oz for hens and cockerels, and 20 oz for pullets. The Poultry Club of Great Britain suggests as a rough guide a maximum weight of 790–910 g for males and 680–790 g for females, with variations taking into account age and maturity.
In Europe, colour varieties of the Barbu d'Uccle include Blue, Blue Quail, Cuckoo, Mille Fleur, Porcelain, Lavender, Lavender Quail, Black, Mottled, Silver Quail, Quail and White and the American Poultry Association lists seven varieties: Black (1996), Golden Neck (1996), Mille Fleur (1914), Mottled (1996), Porcelain (1965), Self Blue (1996), and White (1981).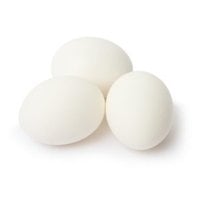 d'Uccle eggs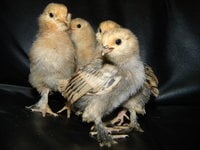 d'Uccle chicks
d'Uccle hen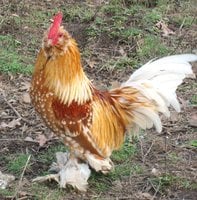 d'Uccle rooster
For more information on this breed and their owners' and breeders' experiences with them, see our breed discussion here:
https://www.backyardchickens.com/threads/chicken-breed-focus-duccle-bantams.1094646/