General Information
Breed Purpose

Dual Purpose
Comb

Pea
Broodiness

Average
Climate Tolerance

All Climates
Egg Productivity

Medium
Egg Size

Large
Egg Color

Light Brown
Breed Temperament

Friendly, Easily handled, Calm, Bears confinement well, Docile
Breed Colors/Varieties

Light, Buff, Dark, Gold, Black, White, Blue, and Blue Columbian.
Breed Size

Large Fowl
APA/ABA Class

Asiatic
There has been considerable controversy over the true origins of the Brahma breed, but appears to have developed in the US originally, from birds imported from China. They were send off from the port of Shanghai and were thus known as "Shanghai birds". Brahmas as we know them were first exported to England in December 1852, when George Burnham sent nine "Gray Shanghaes" to Queen Victoria as a gift. The Dark Brahma variety was developed by English breeders from this stock and later exported to the United States, where the Brahma was the principal meat bird from the 1850's to around 1930. Some of these birds were very big, with males weighing in at up to 18 lb and females at 13 lb.
The Light and Dark Brahma were developed and included in the first edition of the American Poultry Association's Standard of Perfection in 1874 and the Buff variety was added in 1924. The Australian Poultry Association has accepted black, blue, partridge, crele and barred varieties of Brahma in addition to the standard light, dark, and buff.
Brahma eggs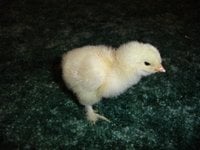 Brahma chick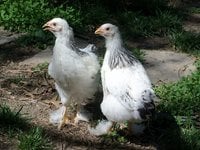 Brahma juveniles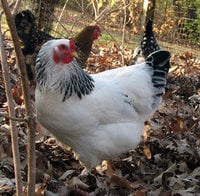 Brahma hen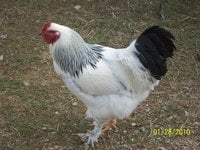 Brahma rooster
For more about Brahmas and their owners' and breeders' experiences with this breed, see our breed discussion here:
https://www.backyardchickens.com/threads/chicken-breed-focus-brahma.992485/