General Information
Brand

Farm Innovators
Manufacturer

USA
Model

CC-2 Green
Product Price

7.84
I bought one of these not really knowing what to expect in the package. I assumed it kept the plugs waterproof... not really but I believe it will work. Step two shows putting the gasket (sorry for the poor photo of it) onto the male plug. When you plug them together then screw the two halves together it compresses the gasket thus sealing off the cord connection. A double you can't pull them apart. I'll buy them again when I need to insure my cord does not short out from water or can't be pulled apart.
Front of the package.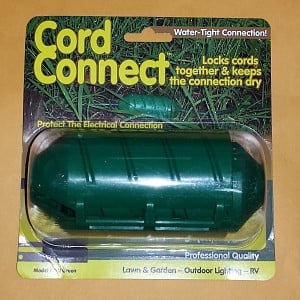 Rear of the package with instructions.
The Bits and Pieces.
In Use.
JT