General Information
Breed Purpose

Meat Bird
Comb

Pea
Broodiness

Seldom
Climate Tolerance

All Climates
Egg Productivity

Low
Egg Size

Medium
Egg Color

Brown
Breed Temperament

Calm, Bears confinement well
Breed Colors/Varieties

White
Breed Size

Large Fowl
Cornish Cross (Cornish X) chickens are the standard meat chicken for the American market. Sometimes called broilers or Cornish/Rocks.
Although it is NOT a breed of chicken, it is a cross or hybrid of some very secret breed lines for the sole purpose of gaining weight as rapidly as possible.
The first attempts at "Hybrid" meat birds was in the 1930's and was the dominant commercial bird by the 1960's.
Modern broilers are typically a third generation offspring (an F2 hybrid). The broiler's four grandparents come from four different strains, two of which produce the male parent line and two of which provide the female parent line, which are in turn mated to provide the broilers. The double cross protects the developer's unique genetics as strains cannot be reproduced from the broiler offspring.
In 2003, approximately 42 billion broilers were produced, 80% of which were produced by four companies: Aviagen, Cobb-Vantress, Hubbard Farms, and Hybro making them arguably, the most popular chicken to raise.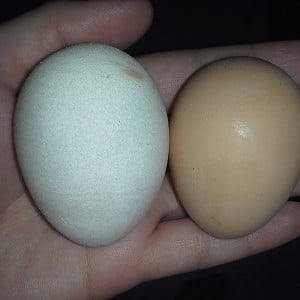 Cornish X egg (white)
Cornish X chicks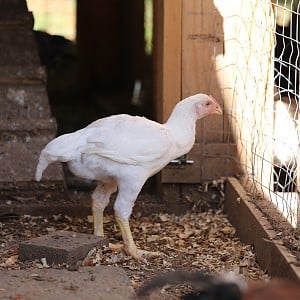 Cornish X Juvenile
Cornish X hen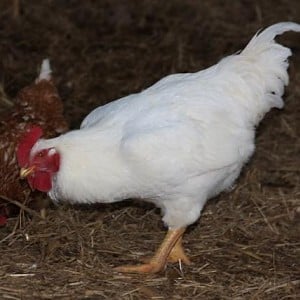 Cornish X rooster
For more information on Cornish X and their owners' experiences with them, see the
Meat Birds ETC
forum section for discussions.