General Information
Breed Purpose

Dual Purpose
Comb

Single
Broodiness

Average
Climate Tolerance

All Climates
Egg Productivity

Medium
Egg Size

Large
Egg Color

Brown
Breed Temperament

Friendly, Easily handled, Calm
Breed Colors/Varieties

One variety, barred silver columbian.
Breed Size

Large Fowl
Delaware aka Indian River was developed in the 1940s in the United States by George Ellis in the state of Delaware. He selected the occasional light colored sport produced from the popular broiler cross of Barred Plymouth Rock roosters and New Hampshire hens. The light coloring of the sports made for a commercially more desirable table bird. The Indian River was later renamed the Delaware for its state of origin, and was the most popular broiler on the east coast for twenty years, before being replaced commercially by the Cornish-Rock broiler.
The Delaware comes in one color, white with slight black barring on the ends of the hackle, wings and tails.
It is a very good choice for a dual purpose flock in general and are decent forgers for a free range dual purpose flock. The hens are good layers of very large brown eggs, are occasionally broody and good mothers. The cockerels especially have rapid growth and make for a nice table bird. They have excellent calm temperaments and are good with other large breeds. It is popular today for small flock owners, and is still used in commercial red sex-linked crosses.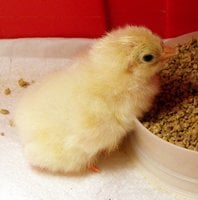 Delaware chick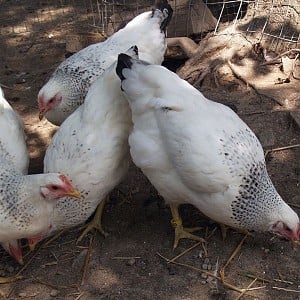 Delaware hens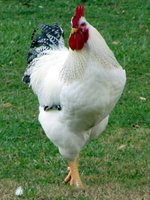 Delaware rooster
For more information about this breed and their owners' and breeders' experiences with them, see our breed discussion here:
https://www.backyardchickens.com/threads/chicken-breed-focus-delaware.1131094/