General Information
Breed Purpose

Dual Purpose
Comb

Single
Broodiness

Seldom
Climate Tolerance

All Climates
Egg Productivity

Medium
Egg Size

Medium
Egg Color

Light Brown
Breed Temperament

Friendly, Easily handled, Calm, Bears confinement well, Docile
Breed Colors/Varieties

The most common colors are Salmon and White. They also come in Black, Cuckoo, Buff, Blue, Blue Salmon, Laced Blue, Ermine, Splash and Mahogany. Cocks are around 8 pounds, hens are around 6.5 pounds.
Breed Size

Large Fowl
The Faverolles is a French breed of chicken, developed in the 1860s near the village Faverolles from whence it took its name. Faverolles are known to have quiet and docile temperaments. Their good nature makes them an excellent choice for the backyard flock owner and they are popular as pets for children. Their excellent temperament combined with their production capabilities, has also seen them becoming popular with small flock owners looking for a gentle dual purpose breed. Their gentle nature does make them prone to being bullied by aggressive breeds though and they do best in flocks with other quiet breeds of similar temperaments. The males are said to make extremely quiet roosters.
They are quite unusual in appearance in that they have five toes and feathered shanks, as well as being heavily bearded and muffed, and their most popular color Salmon, is a color pattern which is exclusive to the Faverolles. Salmon colored birds have the females appearing a lightly colored pinkish wheaten and white, compared to the males which are a striking combination of black, gold and straw color, both have slate colored underfluff.
Many different breeds were used in developing the Faverolles, including the Houdan, Brahma and Dorking. They were originally bred to be a dual purpose production breed, and it is still fairly early maturing, quite winter hardy, an excellent table bird and the hens are good layers of large tinted eggs, especially in the winter. In the early 1900's Faverolles were producing most of the eggs for the Paris, France market.
The Favorolles was imported into the US in the early 1900's and is a very popular show bird today, both in standard and bantam sizes. They come in a number of colors, including the best known Salmon, White, Buff, Cuckoo and Blue among others.
It was recognized by the APA in 1914.
It is on The Livestock Conservancy's Threatened list.
Faverolles eggs
Faverolles chick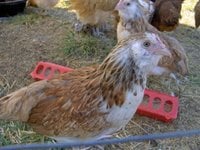 Faverolles juvenile
Faverolles hen
Faverolles rooster
For more information on this breed and their owners' and breeders' experiences with them, see our breed discussion here:
https://www.backyardchickens.com/threads/chicken-breed-focus-faverolles.1011648/