General Information
Breed Purpose

Ornamental
Comb

V-Shaped
Broodiness

Seldom
Climate Tolerance

All Climates
Egg Productivity

Medium
Egg Size

Medium
Egg Color

White
Breed Temperament

Bears confinement well,Docile
Breed Colors/Varieties

Mottled, White
Breed Size

Large Fowl
Houdan are an old French breed, once known as the Normandy fowl. Details of their origin is unknown as they predate modern agricultural writing, but it is believed they were bred from Crevecoeurs, Polish and possibly Dorkings. They were first imported into England in 1850, and to North America in 1865. They were given the name Houdan because large numbers of these birds were bred in the town of Houdan in France. Once valued in France for their fine white meat and large eggs, they are now considered an ornamental breed.
Houdan have crests, beard and muffs, and five toes. Cocks may weight up to 8 lbs. and hens 6 1/2 lbs. Houdan come in two colors; mottled and white. The white Houdan was bred in America and is the result of a white Polish and Mottled Houdan cross.
In 1874 the Houdan appeared in the first edition of the American Standard of Perfection.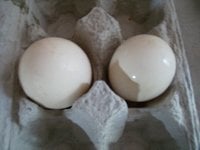 Houdan eggs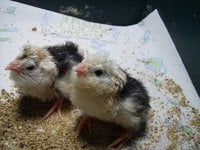 Houdan chicks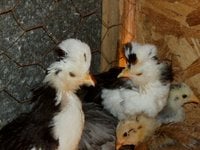 Houdan juveniles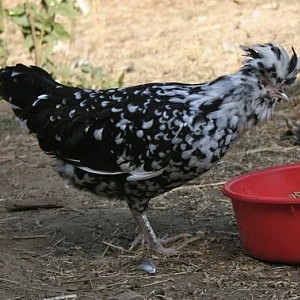 Houdan hen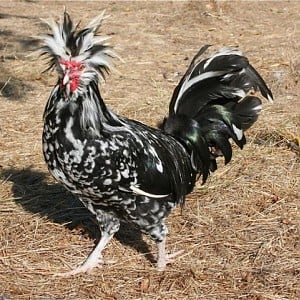 Houdan rooster
For more information on this breed and their owners' and breeders' experiences with them, see our breed discussion here:
https://www.backyardchickens.com/threads/chicken-breed-focus-houdan.1114505/