General Information
Breed Purpose

Egg Layer
Comb

Single
Broodiness

Seldom
Climate Tolerance

All Climates
Egg Productivity

High
Egg Size

Large
Egg Color

White
Breed Temperament

Friendly, Flighty, Bears confinement well, Noisy, Shy
Breed Colors/Varieties

White, light brown, dark brown, black, blue, buff, Columbian, buff Columbian, barred, exchequer and silver
Breed Size

Large Fowl
APA/ABA Class

Mediterranean
The Leghorn appears to derive from light breeds originating in rural Tuscany, though the origins are not clear. The name Leghorn was derived from Livorno, the Tuscan port from which the first birds were exported to North America. The date of the first exports is variously reported as 1828, "about 1830" and 1852. They were initially known as "Italians" and they were first referred to as "Leghorns" in 1865.
The Leghorn was included in the APA's Standard of Perfection in 1874, with three colours: black, white and brown (light and dark). Rose comb light and dark brown were added in 1883, and rose comb white in 1886. Single comb buff and silver followed in 1894, and red, black-tailed red, and Columbian in 1929. In 1981 rose comb black, buff, silver, and golden duckwing were also added.
The breed was first introduced to Britain from the United States in 1870, and from there re-exported to Italy. White Leghorns that had won first prize at the 1868 New York show were imported to Britain in 1870, and brown Leghorns from 1872. Pyle Leghorns were first bred in Britain in the 1880s; gold and silver duckwings originated there a few years later, from crosses with Phoenix or Japanese Yokohama birds. Buff Leghorns were first seen in Denmark in 1885, and in England in 1888.
A flighty breed, the Leghorn are popular today for their great egg production and also for exhibition.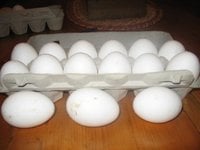 Leghorn eggs
Leghorn chick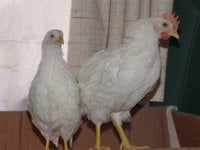 Leghorn juveniles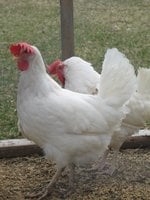 Leghorn hen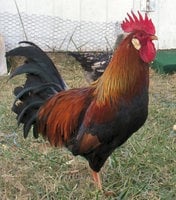 Leghorn rooster
For more info on Leghorns and their owners' and breeders' experiences, see our breed discussion here:
https://www.backyardchickens.com/threads/chicken-breed-focus-leghorn.1152504/