General Information
Breed Purpose

Dual Purpose
Comb

Single
Broodiness

Average
Climate Tolerance

Cold
Egg Productivity

Medium
Egg Size

Large
Egg Color

Dark Brown
Breed Temperament

Friendly,Easily handled,Docile
Breed Colors/Varieties

Silver Cuckoo, Golden Cuckoo, White, Copper Black, Black, Wheaten, Black-tailed Buff, and Ermine. MANY colors in development!
Breed Size

Large Fowl
The Marans, or French, Poule de Marans, is a French breed of chicken from the port town of Marans, in the département of Charente-Maitime, in the Poitou-Charentes region of western France. It was created with the local feral chickens descended from fighting game chickens carried from Indonesia and India. Those original Marandaise fowl were "improved" for the table through crossing with imported Croad Langshans. A favourite at poultry shows, it became a dual purpose breed known both for its extremely dark brown eggs and fine meat qualities.
Marans are generally quiet and docile; but they are quite active, taking well to free ranging in rough terrain and are also tough and disease-resistant. Their gentle temperaments and quiet demeanor makes them ideal for suburban backyard chicken keepers, as well as any assorted farm flock as they rarely bully smaller breeds. Marans are historically a dual-purpose bird, prized not only for their dark eggs but for their table qualities as well. Though the original Marans could also be feather legged birds, British breeders preferred the clean legged version, and thus feathered legged Marans are now mainly found in France. The Australian Poultry Standard recognises both feathered and clean-legged birds, while the Marans Club of America only recognises feather-legged birds.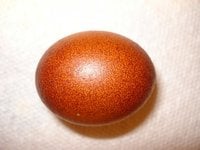 Marans egg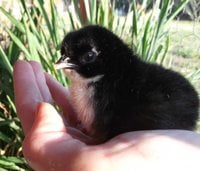 Marans chick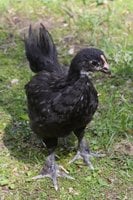 Marans juvenile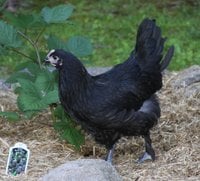 Marans hen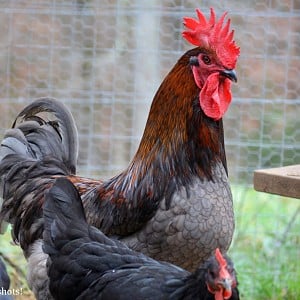 Marans rooster
For more about the Marans breed and their owners' and breeders' experiences with them, see our breed discussion here:
https://www.backyardchickens.com/threads/chicken-breed-focus-maran.1132230/