General Information
Breed Purpose

Ornamental
Comb

Single
Broodiness

Average
Climate Tolerance

Heat
Egg Productivity

Low
Egg Size

Small
Egg Color

White
Breed Temperament

Friendly,Easily handled,Bears confinement well
Breed Colors/Varieties

Silver,Silver Duckwing,Golden,Golden Duckwing,Black,White,Black-Breasted Red,Golden BlackBlue Gold Duckwing,Variegated, others.
Breed Size

Large Fowl
APA/ABA Class

Single Comb Clean Leg
Phoenix were created in Europe by combining strains of the Japanese Onagadori with more commonly available birds, leghorns, dutch, and various games were most commonly used. There are three recognized colors by the APA: Silver, Golden, and Black-Breasted Red, although several breeders have developed many additional colors.
A Phoenix is a long-tailed bird that will molt every 1-2 years. Their tails typically reach 2-3 feet in length, with longer lengths possible only from a few select breeders. They should have a full curtain of saddle feathers and it is desirable that they touch or reach the ground. They are not to be confused with their distant ancestors, the Onagadori, who are non-molting longtail birds who have tails exceeding 12 feet in length. There are no Onagadori currently in the US, although there are some birds of partial heritage.
The Phoenix should have a pheasant-like appearance, white earlobes, a single comb, and slate colored legs. The tail should be carried horizontally in roosters and slightly higher in hens. Phoenix hens are good layers of small to medium sized eggs, and go broody frequently. They are an active bird with excellent flight skills, and can make a great free range bird if given proper shelter and escape routes from predators. Keeping a Phoenix in a small coop is not recommended for best tail growth, as the tail will be stepped upon by coop-mates and ruined by frequent contact with feces and dirt. Large coops with runs that are cleaned regularly are great options for these birds. Covered, or elevated waterers, and a fully sheltered pen are a must if tail length is important to you, as are deep bedding in the pens. Otherwise, their care is no different than that of any other chicken breed.
Phoenix egg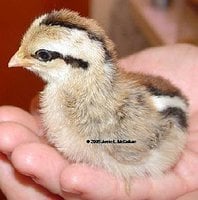 Phoenix chick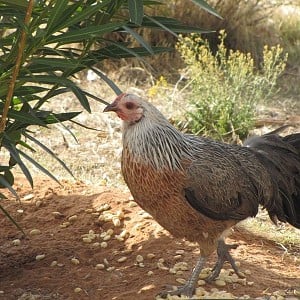 Phoenix hen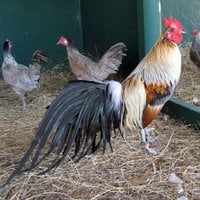 Phoenix rooster
For more information on this breed and their owners' and breeders' experiences with them, see our breed discussion here:
https://www.backyardchickens.com/threads/chicken-breed-focus-phoenix.1107214/