General Information
Breed Purpose

Dual Purpose
Comb

Single
Broodiness

Seldom
Climate Tolerance

All Climates
Egg Productivity

High
Egg Size

Large
Egg Color

Light Brown
Breed Temperament

Friendly, Easily handled, Bears confinement well, Docile
Breed Colors/Varieties

White, Partridge, Buff, Barred, Blue, Columbian, Silver Penciled, Black. RED
Breed Size

Large Fowl
APA/ABA Class

American
The Plymouth Rock is a very popular duel-purpose American breed, known for their excellent laying ability, general hardiness, and calm good nature which makes them a good choice for small backyard flocks and homesteaders.
Chickens called "Plymouth Rocks" were shown as early as 1849, but that flock disappeared and later strains from several different breeders combined to form the foundation of today's Plymouth Rock breed. Mr. D.A. Upham of Worcester, MA is credited as being one of the primary influences on the breed, he first exhibited his birds at the Worcester, MA poultry exhibition in 1869. His birds are generally acknowledged to be the ancestors of the breed we know today.
A number of different breeds are reputed to have gone into the formation of the Plymouth Rock, including Dominique, Brahma, Black Java and Cochin. The breed gained a great deal of popularity quickly and the Plymouth Rock became the most popular farm chicken in the United States up until WWII.
The original color of the breed was Barred and early in the breeds history the name "Plymouth Rock" implied a barred bird. Barred varieties remain the most popular color today. As more color varieties were developed, the name Plymouth Rock became the designation for the entire breed, which can now can be found in other colors including White, Buff, Partridge, Silver Penciled, Columbian and Blue.
The Barred Plymouth Rock was one of the breeds used as the foundation for the commercial broiler industry in the united States in the 1920's and the White Rock is still often used as the female side of the Cornish Rocks or Cornish Cross type commercial broiler cross.
They are single combed, quite winter hardy, and the hens are good layers of brown eggs. They are occasionally broody and make good setters and mothers.
The Plymouth Rock breed was recognized by the APA in 1874 and is on The Livestock Conservancy's Recovering list.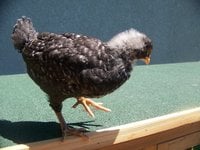 Plymouth Rock juvenile
Plymouth rock chicks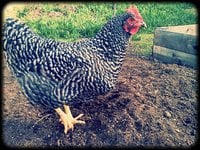 Plymouth Rock hen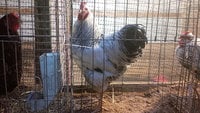 Plymouth Rock rooster
For more information on Plymouth Rocks and their owners' and breeders' experiences with them, see our breed discussion here:
https://www.backyardchickens.com/threads/chicken-breed-focus-plymouth-rock.982643/