General Information
Breed Purpose

Ornamental
Comb

V-Shaped
Broodiness

Seldom
Climate Tolerance

All Climates
Egg Productivity

Medium
Egg Size

Medium
Egg Color

White
Breed Temperament

Flighty,Noisy,Shy
Breed Colors/Varieties

White Crested : Black, Blue, Cuckoo, Choc. Solid : Black, Blue, White, Cuckoo. Laced : Silver, Golden, Buff Other : Tolbunt, Crele
Breed Size

Large Fowl
The Polish or Poland breed is best known for its elaborate crest of feathers that nearly cover the entirety of the head. This crest limits their vision and as a result can affect their temperament. Thus, though normally tame, they may be timid and easily frightened.
The oldest accounts of this breed come from The Netherlands, but their exact origins are unknown. One theory suggests that their ancestors were brought by Asian Mongols to Eastern Europe during medieval times, and thus, could have originated in Poland. It is also believed that immigrants brought the breed's predecessors from Spain or Italy in the late 16th century. The Polish was standardised in the Netherlands and declared a thoroughbred in the 16th century already. The American Poultry Association states that the breed was introduced to the USA between 1830 and 1840. The breed was, during a certain period of time, much favoured by American farmers and chicken fanciers.
Polish chickens are bred primarily for ornamental purposes and exhibition, but were originally productive egg layers. Polish hens rarely go broody and are noted for their white eggs.
The American Poultry Association accepted three Polish varieties into the American Poultry Association's Standard of Perfection in 1874; additional varieties were accepted in 1883, 1938 and 1963. There are bearded, non-bearded and
frizzle
varieties of this breed.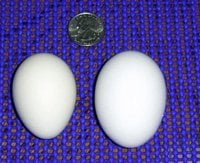 Polish eggs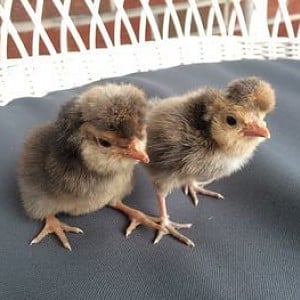 Polish chicks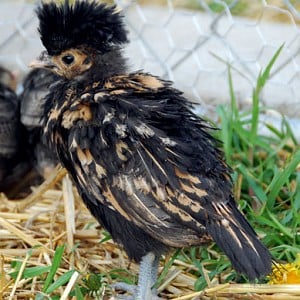 Polish juvenile
Polish hen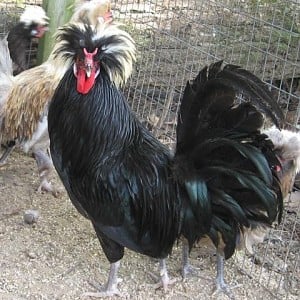 Polish rooster
For more about the Polish breed and their owners' and breeders' experiences with them, see our breed discussion here:
https://www.backyardchickens.com/threads/chicken-breed-focus-polish.1098899/