General Information
Breed Purpose

Dual Purpose
Comb

Single
Broodiness

Seldom
Climate Tolerance

Cold
Egg Productivity

High
Egg Size

Large
Egg Color

Brown
Breed Temperament

Friendly, Easily handled, Calm,
Breed Colors/Varieties

The Rhode Island Red is only recognised in Red.
Breed Size

Large Fowl
APA/ABA Class

American
Color

Red or white
Most often when one thinks of Rhode Island Red they are thinking of the Large Fowl Rhode Island Red, as it is one of the oldest known breeds of chicken and was developed mainly in Rhode Island and Massachusetts in the mid 1840's. The first birds were bred in Little Compton, RI with the use of a Black Breasted Red Malay cock who was imported from England. This Rooster can actually still be seen on display in the Smithsonian Institution as the father of the breed.
The breed was accepted into the American Poultry Association in 1904.
The breed was developed to withstand the harsh New England winters and be a very hardy bird who produced hens with excellent large egg yields and who also would dress out well and look nice on the table, a true dual purpose bird. While the names and places of origin are the same, the Rhode Island White is actually a distinct breed separate from the Rhode Island Red per the American Poultry Association and will be featured in another Breed Focus thread.
The Rhode Island Red breed comes in both large fowl and bantam size and and single as well as rose comb varieties can be found readily.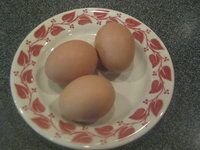 Rhode Island Red eggs
Rhode Island Red chicks
Rhode Island Red rooster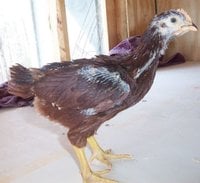 Rhode Island Red juvenile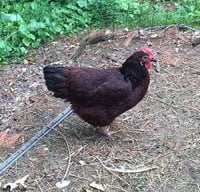 Rhode Island Red hen
For more info on Rhode Island Reds and their owners' and breeders' experiences with them, see our breed discussion here:
https://www.backyardchickens.com/threads/chicken-breed-focus-rhode-island-red.1021447/