General Information
Breed Purpose

Dual Purpose
Comb

Walnut
Broodiness

Average
Climate Tolerance

All Climates
Egg Productivity

Medium
Egg Size

Medium
Egg Color

Brown
Breed Temperament

Friendly,Easily handled,Calm,Bears confinement well,Quiet
Breed Colors/Varieties

The Russian Orloff comes in Spangled (which is the only color found in the USA) but can be found also in white and black.
Breed Size

Large Fowl
The Russian Orloff is again becoming a popular duel purpose breed after becoming nearly extinct in the last century. The "Orloff" is a bearded, muffed, walnut combed breed. There is mention of this breed in literature that is thought to have been published in 1774. The description was obviously that of the Orloff, but at the time the breed was called "Chlianskaia" and later as "Russians", which was probably a corruption of or based on Ghilan, the Persian province where the breed was most common and of it's probable origin. Its present name is taken from Count Orloff-Techesmensky who was quite an Orloff enthusiast and brought them to the eye European and American public.
Early importations were principally black. Early APA standards refer to the Orloff as having a "rose comb". It's true the APA did call the comb rose, but when you read the description it was clearly what today would be called a walnut or strawberry comb and not a true rose comb.
When first imported from Russia, Orloffs were heavy boned, hard muscled, meat fowl that look similar to many popular game types. In the early part of the century a hatchery in Pennsylvania is said to have hatched Orloffs in seven colors and nothing else. It is believed to have operated for more than twenty years and closed around the time of World War II.
The ABA currently recognizes three varieties. The British Standard lists four varieties--Black, Mahogany, Spangled, and White. There are at least three others--Black Breasted Red (with a Cinnamon hen), Mottled, and Buff. Today this is a very rare fowl in the United States and Canada but gaining in popularity due to its calm nature and often winter production of eggs.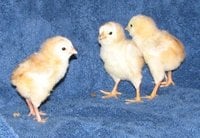 Russian Orloff chicks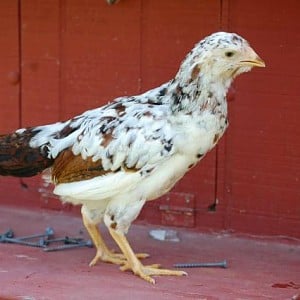 Russian Orloff juvenile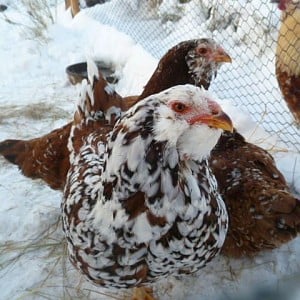 Russian Orloff hen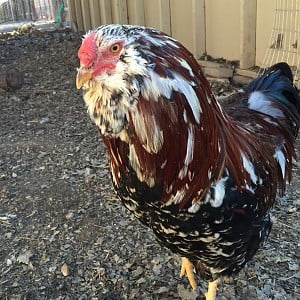 Russian Orloff rooster
For more information on this breed and their owners' and breeders' experiences with them, see our breed discussion here:
https://www.backyardchickens.com/threads/chicken-breed-focus-russian-orloff.1070895/