General Information
Breed Purpose

Ornamental
Comb

Rose
Broodiness

Seldom
Climate Tolerance

All Climates
Egg Productivity

Low
Egg Size

Small
Egg Color

White
Breed Temperament

Friendly, Flighty, Bears confinement well, Shy
Breed Colors/Varieties

Silver laced, golden laced and buff laced
Breed Size

Bantam
APA/ABA Class

Single Comb, Clean Leg
The Sebright is a very small, beautiful, rose-combed bantam, usually with laced feathers. They are a purely ornamental breed, very popular as pets and with hobbyists as show birds. While usually quite friendly with people, they are very active and very good flyers and need to be confined. Sebrights are a 'true' bantam, not coming in a standard sized variety.
The Sebright is named after its creator, Sir John Saunders Sebright, who established the breed around 1810 and went on to form it's breed club, making the Sebright the first chicken breed to have its own breed club and the only breed named after an individual.
Breeds that went into the makeup for the Sebright are thought to include the Hamburgh, Nankin, Polish and Rosecombs. Sebrights are one of the few breeds in which the males are hen feathered, that is they do not have the long, sickle shaped saddle, neck and tail feathers. The mutation responsible for the hen feathering makes them difficult to breed. They come in a variety of colors with the two most popular colors being Gold and Silver Laced.
It was recognized by the APA in 1874.
It is on The Livestock Conservancy's Watch list.
Sebright chicks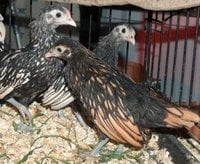 Sebright juveniles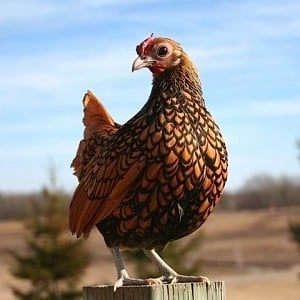 Sebright hen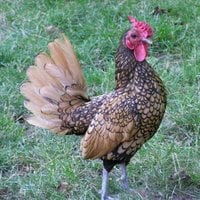 Sebright rooster
For more information on this breed and their owners' and breeders' experiences with them, see our breed discussion here:
https://www.backyardchickens.com/threads/chicken-breed-focus-sebright.1016745/