General Information
Breed Purpose

Ornamental
Comb

Pea
Broodiness

Average
Climate Tolerance

All climates
Egg Productivity

Low
Egg Size

Medium
Egg Color

White
Breed Temperament

Aggressive, wild, restless and flighty
Breed Colors/Varieties

Black is the only color admitted into the standard but other colors are available.
Breed Size

Large Fowl
The Sumatra breed is a native of the island of Sumatra in Indonesia. They were originally imported from Sumatra in 1847 to the U.S. and Europe for the purpose of cockfighting, but today the breed is primarily kept for exhibition. Sumatras are primarily an ornamental breed kept for their attractive plumage. Most often they are a lustrous black with a green sheen throughout the body and tail. The breed comes in blue and white varieties, as well as the unstandardised splash - a natural result of breeding blue chickens.
The Black Sumatra was admitted to the APA Standard in 1883.
The Black Sumatra is a rare and beautiful Asian long tail chicken with rich lustrous beetle green plumage. It originally was inported from Sumatra for cockfighting, but is now exclusively an ornamental fowl.
The Sumatra has a personality closer to that of a wild game bird than a domestic chicken. The male has a graceful carriage and lustrous greenish black feathers. The cock should have a long sweeping tail, with an abundance of long sweeping sickles and coverts, carried horizontally (females tail carriage 15 degrees above horizontal).
Multiple spurs on males are desired as well as practically no wattle development. Comb and wattles are expected to be a gypsy (purplish-black) color, while their skin is yellow. Shanks should be black with the bottom of the feet being yellow.
They are fair layers of medium size white or light tint egg.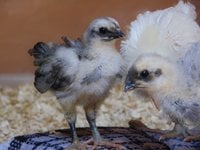 Sumatra chicks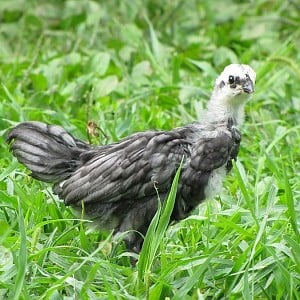 Sumatra juvenile
Sumatra hen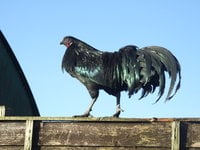 Sumatra rooster
For more on this breed and their owners' and breeders' experiences with them, see our breed discussion here:
https://www.backyardchickens.com/threads/chicken-breed-focus-sumatra.1143674/