10/24/10 update - no eggs since 10/21/10 until today! BAM - 3 eggs today!



10/21/10 update - Came home for lunch today and this is what I found!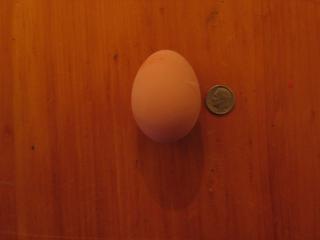 10/20/10 update - No eggs today.

10/19/10 - Came home for lunch break today to see if perhaps we might have an egg, as the gals squat whenever I get near them. Woo Hoo! We got our first egg today! Unfortunately, the gal that gifted us with our first egg was snacking at the pellet feeder when plopped it out, and then one of the other gals walked on it. The shell was soft and it cracked, but the white and yolk (a beautiful orange) were intact so it doesn't appear that any of the gals took a taste of it. Better luck tomorrow! I have the egg in a dish and will post a photo as soon as I find the camera.


Last edited: