Love God, Hubby & farm
11 Years
Apr 13, 2008
8,372
425
326
Our Wheaten Marans are laying very well. My incubators are full and so we are offering these for sale!
This will ship week of Jan 2, 2012 ( Actually Jan 3, 2012) as postal service closed for January holiday, depending upon prompt payment and continued laying of this flock, which is expected. Many of you have asked for no reserve auctions and so this is how this one is set up. Please know that this grouping we expect to sell at a much higher price in the Spring.
You will receive 10 Wheaten Marans hatching eggs and more if available the day of shipping. This flock is of Bev Davis/Buddy Henry lineage and now Garry farm lineage as well. 10+ means you will get more than 10 eggs on the day of shipping, if available. Based on their laying patterns I do expect more than 10 but cannot guarantee it!
Here's one of the pretty pullets from the original flock! No pullet eggs will be included however!!!!! My pullets are in a separate penned area.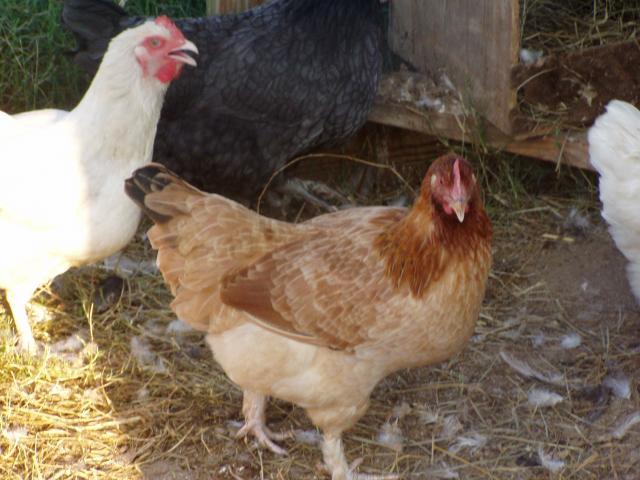 Here's a picture of the laying flock: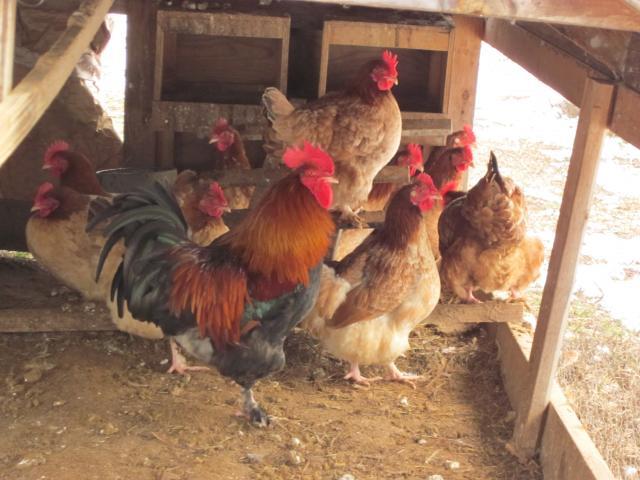 I have been really pleased with the rich coloring of eggs in this flock...The hens have been laying now for many months and the coloring remains beautiful but lighter than the picture below..
These eggs pictures are several months old and some are lighter and some are much darker, all the hens are on different laying cycles!
Wheaten marans - made about 6 months ago: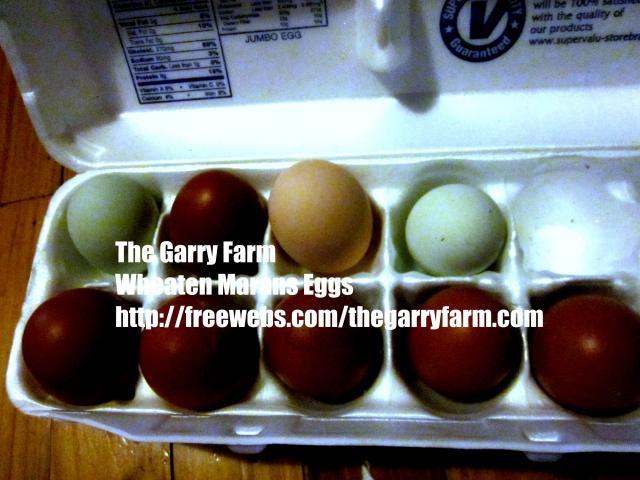 We breed toward the anticipated standards in our flocks
Payment and Shipping and Handling details:
In order to mail these after the close of the auction, please paypal the us at the following address: No echecks they will not clear in time for these eggs to ship.
[email protected]
Be sure that your paypal mailing address is current and if you want to pick up at the post office, please let me know via a pm your phone so I can put it on the box!
If you want insurance, please send $18.70 not $16.70 for shipping as the insurance from USPS costs us $2.00 more.
We are very care about selecting, carefully packing, packing materials, priority shipping and confirmation delivery. If extra(s) are available at the time of shipping, I'll include those as well. Usually I compute the shipping based on your zip code and whether you want insurance or express mailing instead of our regular priority shipping with confirmation delivery but in order to get this package moving tomorrow, we are giving a dollar cost average rate on our shipping.
We ship eggs the same way we would like to receive them. We bubble wrap each egg separately, putting in a regular box (not an egg carton) which is then cushioned and set in a larger box. These are not the prepaid priority boxes but we use the large boxes that can be ordered through USPS as the standard mailing box. Our mailing costs can often be higher than the prepaid boxes but we find that they arrive in better shape, so it's well worth the extra time, packing materials and shipping costs. Occasionally with a large order, we will use an even larger outside box. After carefully preparing you package we drive your eggs to the Post Office, where our local post office sets the egg shipments to the side to protect them. They are then placed on the truck on the top of all the other boxes! Our mailing costs are average cost based so you may pay immediately after winning the auction and we may ship in a timely fashion!
Even as carefully as we ship, we cannot guarantee that there will be no breakage in transit. We do not guarantee the percentage of your hatch as the incubators temperature and humidity are very variable.
We will provide assistance to you during the hatch and help in every way possible to have the best hatch possible.
We are a chemical free farm and farm full-time. We feed our animals with the best feed, sprouted grains, fresh grasses, treats from the garden and loving care. For more information about our farm, please visit our website
http://freewebs.com/thegarryfarm.webs.com/
or our blogspot
http://thegarryfarm.blogspot.com
or facebook The Garry Farm
Please check out our feedback.
http://spreadsheets.google.com/pub?key=pcz6aC_klXJDTE8H01hR-RA
and the current feedback system at the top of this listing.
Please see the following feedback that I just received from AZBootsie, who received 12 Wheaten Marans Eggs from The Garry Farm. She said: "Hey Nancy,

Chicks are already 2 weeks old and I haven't taken a minute to let you know how well the hatch went....

Unfortunately I broke one even before I even got them into the incubator, so only set 11. 1 never developed and 10 hatched perfectly. 10 happy, healthy chicks out of 11 eggs....better than I ever imagined. It is probably too early to tell for sure, but it looks like I have 6 pullets and 4 roos. In the next day or two, I am hoping to get some pics posted on the wheaten Marans thread.

Thank you again. Nancy, You Rock!!

God Bless,
Bootsie"
Please know that your results may vary depending upon postal handling as well as incubator/broody hen functioning, etc.but I was so super excited that she hatched 10 of 12 eggs shipped to her!!!
Voluntary Testimonials are also available at our website.
See more about our farm at
http://thegarryfarm.webs.com
/ or Facebook: The Garry Farm
We are only able to accept paypal only for this auction and ship only within the US. Pickups at our farm are also allowed.
Please let me know if you have any questions.
Happy Bidding...Thanks and have a blessed day and HAPPY NEW YEARS!
Nancy PS Thanks for all e mails, phone calls, cards and prayers while I was away in the hospital SOOO long.... They mean more to me than you will ever know..... God is good all the time.....I am feeling so much better........!!!!